Foothill Students and Faculty Respond to Work-To-Contract Strike
Mounting tensions between the Foothill-De Anza Faculty Association and district leaders over the administration's consistent refusal to provide salary increases culminated with the faculty's decision to begin work-to-contract on Monday, May 21. Since then, faculty have stepped down from responsibilities not included in their contracts, including roles as club advisors and committee members. In accordance with the strike, they have limited their availability outside office hours and are not accepting students beyond the class limit to late-spring or summer classes. In the short time since, students and faculty alike have been suffering the consequences.
Olivia Stone, a member of the history club at Foothill College, described how work-to-contract has been afflicting her. She regretted that many professors won't be attending this year's commencement ceremony.
"I know that the professors want to be there, and I know that the students want them to be there — so the fact that they won't be there is just so sad," said Stone.
Part of her distress also stems from the fact that her club advisor, faculty member Steve Batham, stopped attending club meetings and didn't attend a club field trip to the Monterey Bay Aquarium on June 3, though it had been planned for months. Stone described it as one of the club's most celebrated events, and said it felt "weird" to be there without Batham sharing interesting stories and historical facts.
"He is such an important part of our club, and he couldn't be at one of our favorite events," lamented Stone.
Many clubs across campus have faced similar challenges. Mami Horikawa, president of the chemistry club, is a passionate STEM student triple-majoring in chemistry, math, and physics. When she became club president she made it her mission to keep the club as active as possible by scheduling hands-on activities and social events with other clubs. Horikawa was crushed to learn that most of her scheduled club activities for June had been cancelled, including a fundraiser they had been planning for a month.
Horikawa was also heartbroken by the low faculty turnout at a STEM social on Friday June 1, an event for STEM students and faculty members to get together at the end of the year and socialize.
"There are supposed to be faculty," Horikawa said. "Otherwise, how can we call it a STEM social?"
Faculty discontinuing their roles as club advisors is not just difficult for the students, but for the faculty themselves as well. Eta Lin is a full-time psychology instructor and co-advisor to the psychology club. She has a passion for both psychology and research that she brings to students by introducing cutting-edge studies that produce critical discussions. She felt uneasy about having to step down from her role as advisor and decrease her availability outside office hours.
Lin admitted, "It's almost like there's a level of ambivalence because you feel like we do need to stick together as faculty and show solidarity. But at the same time you know this is the last so many weeks before finals and there's a lot of students that need your help and support — it's hard to just say thanks for your question, but I have to get back to you during my office hours."
Alongside the aforementioned responsibilities, Lin teaches five independent studies courses which she does not get paid for, serves as a member on various curriculum and hiring committees, and works closely with the research experience program between Foothill and Stanford University that provides Foothill students with research opportunities at Stanford. She was surprised to learn about how much work she was doing outside of her contract.
"I didn't realize I was putting in all these other hours and doing this over and above because [I] just want to, right — because it is about student success" Lin said. "You don't realize how much you do above and beyond your contract until you're working to the contract."
The decision to implement work-to-contract was supported by an overwhelming majority of full and part-time faculty members according to Bill Ziegenhorn, a full-time history professor, member of the Faculty Association executive council, and a division representative for the college curriculum committee. He described how faculty who voluntarily join committees — such as curriculum committees, scholarship committees, and hiring committees — are crucial to the quality of courses, teachers, and opportunities provided by the school.
Ziegenhorn stated, "With work-to-contract, we are encouraged not to attend the college curriculum committee meeting where many decisions are made about programs and new or revised course curriculum…if those approvals don't happen at the college level that can endanger programs and courses for the following year."
Many other faculty are irritated with the district's lack of communication and unwillingness to negotiate on this issue. Lin described the district's continued refusal to accept any of the Faculty Association's proposals.
"It's been pretty adamant on one side. There's no negotiation" stated Lin.
The district's tough stance has prompted many faculty and students to reach out. In a scathing letter to the FHDA district board, Chancellor, and college presidents, Meredith Heiser — a full-time political science instructor at Foothill who will be retiring this year — described over 40 hours of work she put in over the last month outside her contract. She wrote, "most faculty — part time and full time — work like dogs and need some sign of respect. Platitudes and clichés just don't cut it when faculty are killing themselves. Where is your leadership in this?"
Several students emailed the district board and other administrators about their concerns and received the following letter: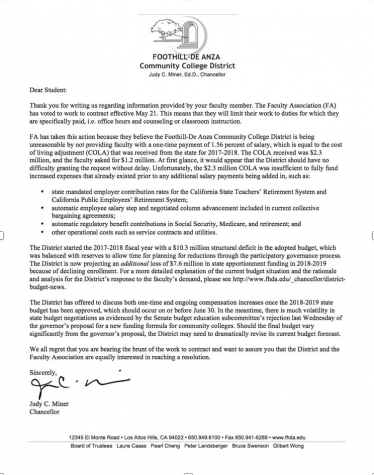 Other student-driven attempts have been made to reach the district. Horikawa described a petition created by STEM students, asking for signatures in support of the district providing the faculty with the one-time cost-of-living adjustment they are asking for. She explained the petition was about, "getting back our learning environment. We want to be active in class and also outside of class. We want to stop this work-to-contract." The petition has over 150 signatures so far, primarily from students, indicating widespread student support for the faculty's cause. Horikawa hopes to reach 5,000.
Despite these efforts, students will ultimately have to wait and see how negotiations between the district and Faculty Association unfold. As a student, Horikawa feels helpless and unheard while the district and Faculty Association negotiate.
"It's kind of like a parent's divorce," Horikawa said. "Parents are arguing and the kids can't do anything — and I feel that way. I really want to help, I really want to change it, I really want to get back the Foothill that I like."
This is a developing story.
View Comments (1)