District Withholds Faculty Raise, Prompting Union Action
Updated on 5/18/2018 at 9:22 p.m.
The Faculty Association will begin work-to-contract on Monday, May 21 in response to the Foothill-De Anza Community College District's continued refusal to pass on a salary increase for faculty to adjust for rising costs of living. The refusal came amidst ongoing budget cuts for the FHDA District.
The collective bargaining strategy of work-to-contract entails ceasing to exceed contractual obligations of a job. This means many campus clubs and student resources may be shut down in the coming weeks as faculty resign from advisor positions, potentially drastically impacting the campus community.
"It means no late adds," said union official Steve Batham. "I would resign as the history club adviser, the heritage months all need a faculty adviser too, that would be resigning off of those."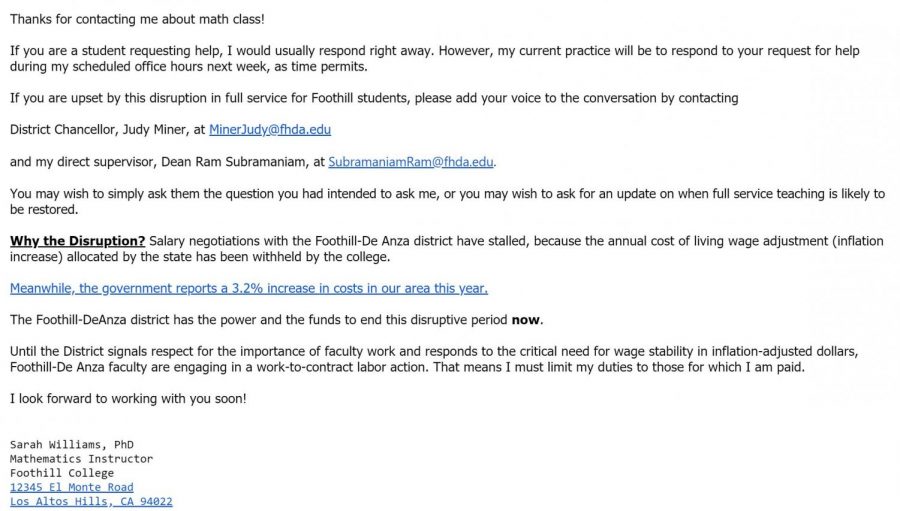 The decision to begin work-to-contract was widely supported by faculty according to an email sent by head Faculty Association negotiator Kathy Perino. It followed the district's continued withholding of any faculty salary increase at Wednesday, May 16's meeting between the Faculty Association and the district.
"
Without a raise, the rising costs of living in the Bay Area continue to place pressure on the livelihood of Foothill and De Anza faculty.
"The district's proposal…stays the same in terms of zero dollars, zero percent in terms of cash compensation, either on schedule or off schedule — on schedule meaning it would go on some sort of continuing basis, and off schedule meaning it's a one-time kind of a thing," said head negotiator for the Foothill-De Anza District, Dorene Novotny. "We're still having the same interests in wanting to do something regarding compensation. But the district's proposal at this time for 17-18 is still zero."
Without a raise, the rising costs of living in the Bay Area continue to place pressure on the livelihood of Foothill and De Anza faculty.
The Faculty Association's recent proposal included an off schedule salary increase of around $1.2 million, and was rejected by the district Wednesday. According to an email sent to faculty by Perino on Thursday, May 17, the amount proposed by the Faculty Association would make up only approximately 4 percent of the FHDA District's projected ending balance of $29.5 million for the 2017-18 academic year.
The Faculty Association's recent offer of a raise in one-time dollars followed the stagnation of negotiations regarding a Cost of Living Adjustment, or COLA, which would entail a percent raise on a rolling basis. COLA is a percentage increase in funding passed annually from the California state government to publicly funded institutions such as Foothill and De Anza Colleges to help adjust budgets and employee salaries for rising prices and costs of living in California. Traditionally, faculty have received the full percentage salary increase the COLA provides to the district or more. After the negotiations stagnated, the Faculty Association's recent proposal was for a raise equivalent to this year's COLA, only in one-time dollars rather than on a rolling basis.
"We believe there's money for an ongoing raise, but we're willing to delay those negotiations until the summer…We're willing to delay the ongoing negotiations, but we need an off schedule payment for this year," said Perino.
The imminent implementation of work-to-contract coincides with the beginning of late start spring classes. According to Perino, late adds for classes will likely not cease entirely.
"[Faculty] can add people up to the maximum [class capacity], but do not add anyone over the maximum class size."
The most significant effect of work-to-contract students will feel is the possible widespread evaporation of clubs and other faculty-run student services, according to Perino, who also expressed plans to meet with student groups to discuss the oncoming changes.
According to Perino, "faculty want to serve students. We want to continue the work that we always do. But the position that the district has taken is that they do not value that work. So we have no choice but to withdraw that work, so they see that value."
This is a developing story.
Leave a Comment