The Things We Don't Talk About: The "Infinite Black Suitcase" Play Review
This poignant production forces the audience to confront some harsh realities of death, all while handling the subject matter with depth and tact.
Infinite Black Suitcase is the latest production to come out of Foothill's Drama Department – with showings until June 11. The play director, Sinjin Jones, confronts the audience with this heart shattering play that addresses the grief people experience before and after a loved one passes away. Infinite Black Suitcase defies stereotypes by helping us acknowledge that at some level, everyone needs to prepare for the inevitable… death. Of course, there's always room for conventional after-death grief for the survivors, which this play definitely includes. But rest assured, the story conveys that despite grief being a terrible concept in itself, no one is ever alone to deal with it as Arin Coleman (who plays Frank) explains, "All of us have gone through grief, it's this universal thing but it can feel incredibly isolating… and you don't have to face your grief alone."
Infinite Black Suitcase shows the baggage and grief that one carries after someone passes away. The journey through despondency is illustrated with multiple stories told in an episodic timeline from multiple perspectives: an ex-husband and stepfather meeting in the middle for the good of the kids when the wife is to pass, a troubled boy coping with the recent death of a father he despised, a man realizing he needs to find meaning in life once his husband does eventually die, a catatonic woman coming to terms with the death of a loved one, and a couple preparing for where they are to be buried eventually.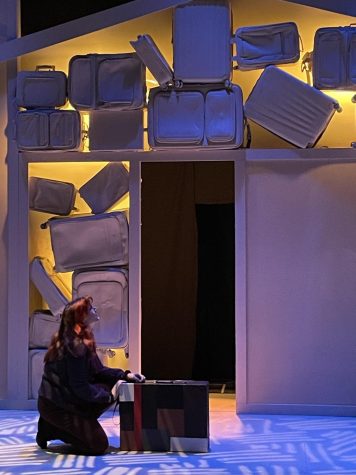 Right from the start, the set design jumps out at you. The stage was hardly a stage as it was completely open floored, making the audience feel like a part of the show. Silhouettes of people dancing, posing, or having an emotional reaction were shown throughout the play, heightening the Avant-garde atmosphere. The set design was beautiful, with one very notable set piece being the star of the show, a realistic tree that descended from the sky that gave the scenery a much more authentic feel as the setting moved outdoors. Floating windows lingered, emphasizing the abstract style of the show.
Overall, the play was rather somber, however there was some levity throughout. In the beginning of the show, the audience may find themselves confused but as minutes pass, you slowly put the pieces together, making the play much more interactive.
There were very strong actors out there representing the different stages of grief, with some obvious standouts as well as a solid overall cast. Keep an eye out for Arin Coleman's body comedy playing Frank, and Mateo Urquidez's emotional expression as Stephen.
The directors and actors backstage have doubtlessly created a community of inclusivity, sharing the passion of acting with the Foothill community.
Overall Rating: 8.5/10
View Comments(1)
About the Contributors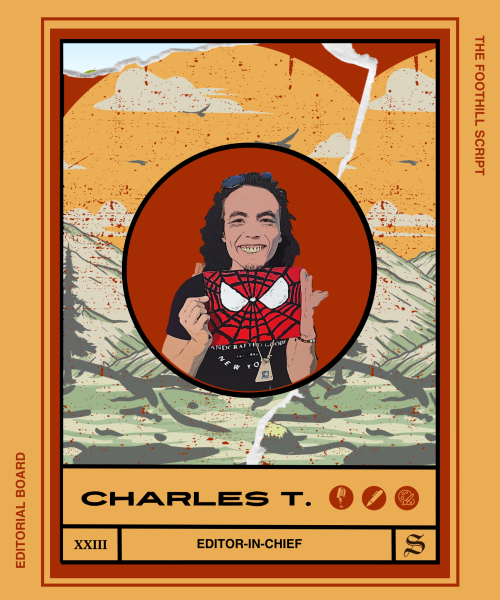 CJ Toledo, Editor-in-Chief
CJ Toledo is a first year at Foothill College, double majoring in psychology, and philosophy. Always passionate in speaking truth to power, joining the journalism club in school was the next logical step. He hopes to spread a bit of positivity, and awareness in a medium that has been lacking in attention: Newspapers. He also enjoys painting, parkour, and community building. Some other projects beside The Script that he's involved in include the Stanford Painting Initiative, and Spider Parkour.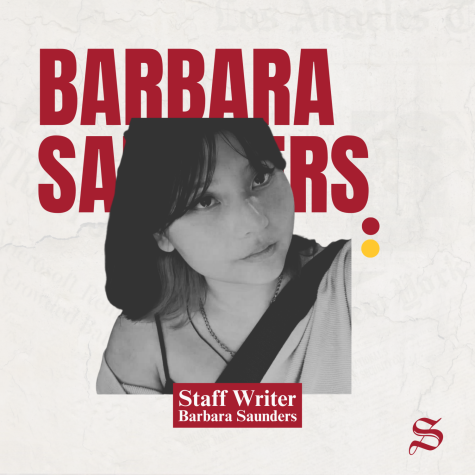 Barbara Saunders, Staff Writer
Barbara is a first year at Foothill studying Film and is hoping to move to the city to pursue it. Right now, she enjoys whatever life throws at her while meeting different people! She hopes to share her love of fashion within the Script and to hopefully inspire others to love it as well!

Her passions include singing, acting, doing her makeup, and simply eating good food!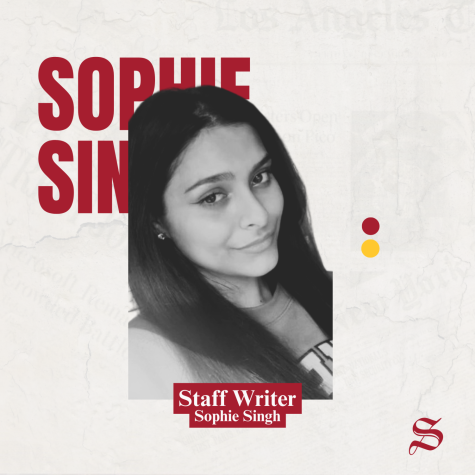 Sophie Singh, Staff Writer
Sophie is a first-year student at Foothill College, majoring in Business Administration. She is deeply passionate about writing and loves to produce poetry in her free time. In addition to this, she is devoted to her advocacy work for students with learning disabilities.
Her writing is a reflection of her passion for creating a more equitable society and education.