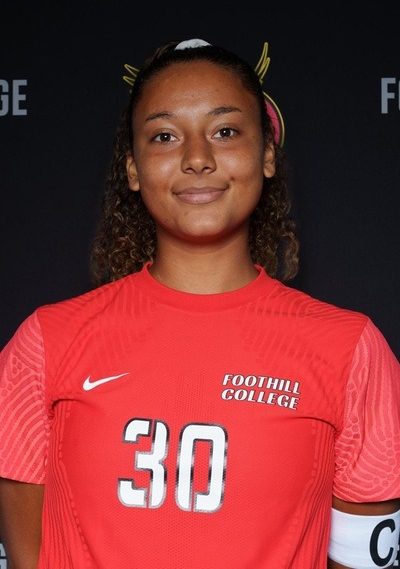 Each month, the Foothill Athletics department recognizes a Student-Athlete that exemplifies the spirit of being an Owl. This includes dedication to not only their sport, but to their academics, character, and being a leader on and off the field. 
This month Foothill has recognized Carmen Hinton, a Freshman Midfielder from San Mateo as their athlete of the month. Hinton has been playing soccer almost her entire life, starting at 5 years old. She has had a dream of becoming a D1 soccer player for as long as she can remember, even admittedly before she knew exactly what that entailed. 
Growing up she played for AYSO teams until she decided to make the step up to club soccer at 13. Hinton then decided to take a big step towards that D1 dream, and made the switch to De Anza Force Soccer Club, a very notable Bay Area team with a rich history of college level players (43 players committed to collegiate programs in Hinton's graduating class alone). 
This childhood dream came true for Hinton when she committed to play Division 1 Soccer at Cal State Fullerton. It was a dream come true at first, but the adjustment was difficult. The pressure involved in being a D1 athlete is often compared to being a professional, with the added stress of academics. 
Hinton improved immensely as a player, but was struggling off the pitch. This culminated in a medical-redshirt, and her deciding to come back home and redefine why she was pursuing this dream. 
Foothill has become a place of solace for many, including Hinton. She reflected shiningly on the enjoyment she's found from approaching the game at Foothill: "That's the nicest part about being here. I don't have to worry about who I'm performing for. I'm just performing for me."
This reclamation of enjoyment has been aided by her head coach, Imaan Kerchgani. He played D1 soccer himself at UC Berkeley, and has been coaching high level soccer ever since. The attention to detail he brings to the game has had a big impact on Hinton. 
"He takes time out with each person to work on what they need. Any time I ask to train extra, he's always [available]. Which is not like any coach I've had before… it's really, really nice."
This dedication from the coaching staff has helped cultivate a positive environment within the squad. It's become a culture of helping each other, a stark contrast from the unfortunately normalized competitive market that can become present in high level athletics.
"[At Foothill] we embrace everyone on our team." Hinton reflected. "We all want each other to get better." 
The academic balance has always been a big part of Hinton's being, with a symbiotic relationship between studies and sport. Foothill has proven great for that too, with her utilizing the school's wonderful online class catalog to be able to practice as much as possible while simultaneously staying on top of her education.  
As for the future, Hinton hopes to continue this reclamation journey, but while adding what she's learned from her experience. The focus is finding a balance between being comfortable in her scenario while also still being challenged with high level soccer. The biggest factor is finding a Coach that she connects with, and one that can create a similar environment to the one she's found a home in at Foothill. 
She offers some wonderful advice to anyone thinking about pursuing a similar path.
"If your motivator at its core is strong, it's going to propel you further… but if your foundation is weak, then you aren't going to be able to build upon it."
She continued, "Start connecting early, send your emails, start sending your highlight videos. But more [importantly] than that, figure out why you're doing what you're doing." 
Hinton will look to help her Owls team finish this season strong, looking to build upon a formative first campaign at Foothill.