"She Kills Monsters" opens at Lohman Theater
Amidst the portrayals of imaginary monsters, heroes, and magical worlds, the love between two women and the bond between two siblings stole the spotlight of "She Kills Monsters," a production put on by the Theatre Arts department at Foothill College. The play premiered in the Lohman Theater on Nov. 3.
Gwyneth Forrester held the role of Agnes Evans, a young adult struggling to process the death of her sister Tilly, played by Fatima Mejia. Evans steps into her sister's shoes to understand a woman she never fully knew, and generates a magical world in the process.
Evans learns about her sister through a game of Dungeons and Dragons, which was described in Tilly's old diary. Every person in her late sibling's life was imagined as a mystical character — with both monsters and heroes representing her friends and enemies. Though the plot is communicated largely through the interactive game, Evans still discovers very real aspects of her sister's life.
Though the play focused on dialogue more than set design, the fantastical settings remained convincing with the help of costumes, props, lighting, and sound effects. Creatures like a three-headed snake, for example, were displayed as heads on sticks carried by a crew of technicians wearing black, and evil cheerleaders donned painted, bloody mouths. Each monster was introduced onstage with dimmed lights, drums, and rolling fog.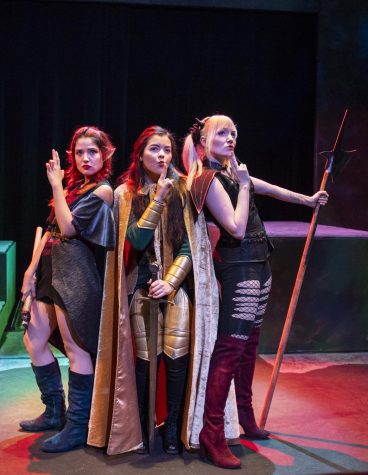 The actors portraying the monsters were captivating. They were well prepared, professional, and didn't make mistakes. The eye-catching performances added credibility to emotional scenes and made the interactions between characters believable. The play appealed to a modern audience with a careful, yet funny, presentation of culturally significant themes and issues. Jokes about politics in the status quo and a unique focus on LGBTQ relationships were key to its realistic illustration of a young adult's world.
The bond between two women who could not freely express their love was especially memorable. In one scene, Tilly and her closeted lover, Lilly, shared a heartwarming kiss. Evans barged into the romantic moment and expressed a convincing display of shock.
Every heavy moment in the play was balanced out with humor. The emotions during the kiss ran high: shock, anger, confusion, and embarrassment were just a few. A political joke evened it out. To defend her scattered response, Evans insisted she supported gay people. "I'm a Democrat," she said. "That's not a weapon," Tilly responded. Though her sister was referring to the workings of the game, the comment was a meaningful way to invoke laughter.
The play came to a close on a somber note. In the midst of a heated argument, Evans poured her heart out to her sister, and asked to know more about her life. "I'm dead now," Tilly said in response, pulling the audience out of her imaginary world.The heartbreaking conversation drove home the importance of communicating and expressing love, because it is not always apparent, and time can always run out.
Tilly described the world she had made in her diary as "strong, powerful, and magical." Talented actors, costume design, and stirring dialogue ensured that the production lived up to her expectation.
"She Kills Monsters" will be showing in the Lohman theater till Nov. 18.
Leave a Comment