Beauty in the Ordinary: Bill Owen's Work and Legacy Explained
The 70s have never felt closer on Foothill campus than in 2023. On January 19th, fans and students gathered at the Krause Center for Innovation for a special photography exhibit, featuring highlights from the photographic series Suburbia at Fifty with the artist himself, Bill Owens, present. 
The gallery opened at 4:00 pm sharp, with a short presentation and reception at 5 o'clock. These particular pieces, dating back to 1973, presented a concise theme of the suburban culture in America that not only existed in the 70s but as the pictures show still exists today. The event was hosted by Kate and Geir Jordahl, who worked in collaboration with Bill Owens to remaster his most famous pictures in order to make the book Bill Owens: The Legacy of Suburbia. 
Both the gallery and lecture room were packed with fans and students alike, with roughly about fifty people or more attending. The majority of people present had been watching Bill Owen's whole career, while others were just now learning about this proficient artist.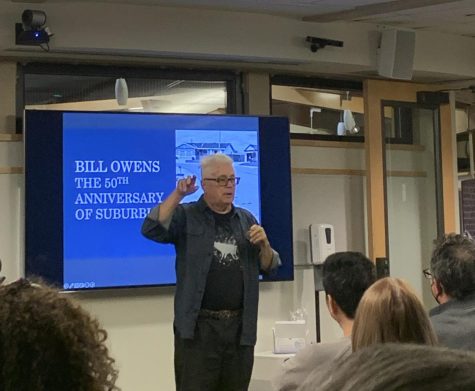 One such person is Kaira Lai, a junior at Menlo High School taking college classes at Foothill, along with her friends Amy Gillson and Simone Smith. The three of them had stumbled upon the exhibit while doing school work at the Krause Center for Innovation and, wondering what the fuss was all about, experienced Bill Owen's work for themselves. Kaira is also interested in photography, namely in merging two pictures to make a third, new picture. When asked what she thought of Owen's work she said, "It makes me think about the picture and also wonder why he took the picture."
Indeed, at first glance, the photos seem like ordinary, black-and-white depictions of middle-class life in America. Yet Foothill's art history professor, Cynthia Brannval was immediately "struck by the nostalgia." She had heard about Bill Owens from her own photographer who professionally takes pictures of her art and from them learned the extensive influence Bill Owens has on the photography community.
Professor Brannvall also noted how the pictures from Suburbia managed to capture "the messiness of the 70s," meaning that in subtle details, viewers are aware of the bigger issues that were happening in that time period, going beyond the seemingly ordinary lives of the people portrayed. 
During the artist talk, Bill Owens also discussed how he first started this project when he was a photographer for the local newspaper. During work, his fascination for the culture in suburban America grew, despite how many people, as he described, would hurriedly assume that "people in Suburbia are boring!" 
Yet, he argued that Suburbia highlighted the true culture and human nature of the suburban, seen in the pictures paired with stark, often humorous captions that were subtracted directly from the people in the presented images. Owens discussed that he had first started his project by taking pictures of suburban symbols and items until he came upon the realization that it was the people who inhabited Suburbia that made the essence of his project "real." He also claimed that he was only able to capture Suburbia in its rawest form because people saw him as "one of them," allowing him to record details that "outsiders' might never see. 
The people in the pictures probably felt like many people today; their daily life is boring-  suburban or not. Yet in reality, even in a monotonous routine, beauty is found in people. It is fitting that Owen displayed his art on a college campus. It served as a signal to students to slow down and appreciate the beauty in the ordinary because in 50 to 60 years from now, it will no longer be ordinary. 
View Comments(1)
About the Contributor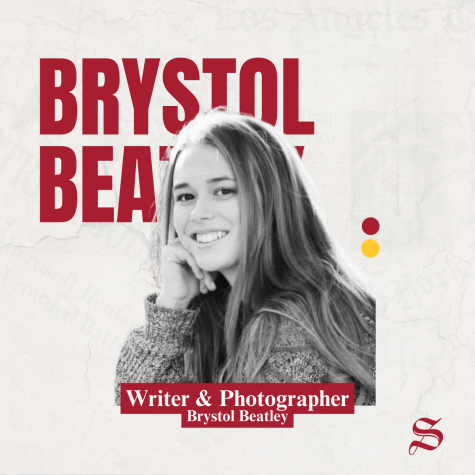 Brystol Beatley, Writer & Photographer
Brystol is a first-year student at Foothill College, planning to transfer to a four-year university to pursue a degree in English. She is currently taking a journalism class and loves writing news stories on topics concerning education, law, and the American workforce. Her long-term goal is to excel as an investigative journalist and become a published author. Besides writing news articles, Brystol likes to write fiction and poetry for fun. Coming from a rural hometown, the diversity of people and their stories is often a pivotal subject of interest in her writing.