Coach Brandon Younger Interview
Coach Brandon Younger, Defensive Coordinator for the Foothill College Football Team, is one of the Staff members in the Umoja (a Kiswahili word meaning unity) Community,  a critical resource dedicated to enhancing the cultural and educational experiences of African Americans and other students.
Coach Brandon Younger, a native of Oakland, started his football playing days with the East Bay Warriors youth football program at the age of eleven, playing high school football at Oakland Technical high school where he received all-league honors as a senior. Coach Younger then went on to attend the College of the Sequoias where he played for two years and earned an athletic scholarship to Langston University. At Langston University Coach Younger helped lead his team to its first Red River conference championship in eleven years.
Aside from helping Foothill college win many football games and continuing to make history by helping student-athletes from all over come to Foothill, he is also making sure that non-students athletes are doing well in school and he is helping them with whatever resources they need.
Why did you decide to come to Foothill College? 
Coach Younger: I started coaching at Oak Grove High school before Foothill and although I enjoyed my time there I wanted more for myself and for my family. While I was at Oak Grove High school in San Jose, the team made school history by leading the Central Coast Section in interceptions with 18 as well as being a part of a staff that won its first Central Coast Section title in eight years. I felt that I did all that I could do at Oak Grove and it was time for a change. Foothill College wasn't known yet and since I saw so many of the games before I became a coach I wanted to help build a new culture at Foothill especially because I knew what it was like to be a Juco athlete so it was a no-brainer.
What is your favorite thing about Foothill? 
My favorite thing about Foothill is the community. I always feel the love and support from everyone when I talk to them. And I just enjoy how they support us and our football games and how we support them with their events. If there is an event and they need help setting up I will find some of the guys to help them. Foothill is a family and we got to support one another.
What makes the Foothill football team so successful? 
I feel like what makes the football team so successful is the fact that everyone buys into what we are doing. The fact that they put all this trust into me and the other coaches makes us able to do the best job possible to make them successful and hopefully get them a scholarship. Another thing that makes us successful is all the hard work we put in as a team. During the football season, we see each other more than our families sometimes but it's a sacrifice we need to make to become successful.
How are you able to recruit players to come to Foothill when there are other schools closer to them? 
When I recruit players I try to keep it 100 percent honest. I tell them the truth that if they want to play here, they need to go above and beyond in the weight room, football field, and especially the classroom. I feel like when I tell them this stuff, they respect me more. Another reason why I'm so good at recruiting is that I'm able to relate to many of the players which help us have a closer bond. Before I get to know anyone, I try to see how they are and what they do and don't like. When I do this with students and athletes it helps them see that I'm putting an effort into trying to get to know them. I also try to get them out of their comfort zone once I get connected with them to show them that it's okay to try new things.
What is the main goal that you want for the students and athletes at Foothill? 
I believe that education is one of the most important things a person can have. Football and sports only last so long so it's important that everyone has a great education because no one can take that away from you. My main goal would be for everyone at Foothill to graduate or at least find their passion or career in life.
What do you want to be remembered as during your time at Foothill? 
I want to be remembered as someone who always went above and beyond in everything that he did and always wanted to help people. And if they remember me as one of the many factors that helped the football team win some games that would be a plus too. But yea I love Foothill and everything about I will continue to do my best for the community of Foothill.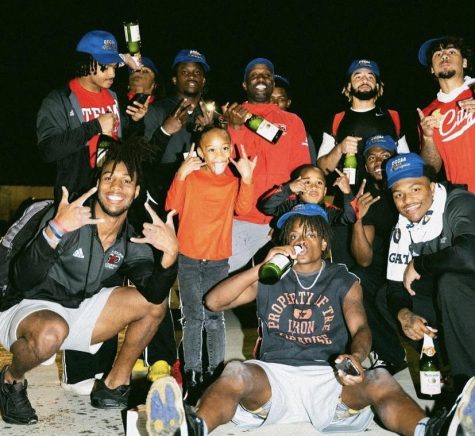 Coach Younger has had a big impact on me as a student and a former athlete. The way he cares for others is truly inspiring and I'm glad that I got a chance to interview him. For many of the students who don't know Coach Younger hopefully by the interview that you have read, you can see what type of person he is. And who knows maybe you might need him for something. But I enjoyed my interviews and I'm glad I was able to share with someone who has had a big impact on my life and so many others in the Foothill Community.
View Comments(1)