BEC hosts Innovation Challenge Competition
On Friday, June 9th, The Business and Entrepreneurship Club hosted its annual Innovation Challenge Competition, which allowed Foothill students to present innovative problem-solving ideas to qualified venture capitalist judges.
The Business and Entrepreneurship Club diligently planned how the five-hour event would play out; setting schedules and assigning officer duties were just a couple of the ways the club got organized.
Around 11:30 am, all twenty-one competitive teams and judges arrived. The honorary judges included Miriam Rivera from Ulu Ventures, Ben Dubin from Health Gap Ventures, Shivani Ganguly from New Son Road, Tom Leung from Google Health, and our very own Foothill College President, Dr. Kristina Whalen.
Among the twenty-one teams, six were selected to advance to the final round due to the remarkable range of innovative ideas. The initial chosen teams included; Connect Foothill, You Play, Vitologist, Stellarshopper, Clean Shrooms, and ParkEZ. Each team received valuable feedback and suggestions on how they could enhance the effectiveness of their business plans, expand their networking opportunities, and address specific challenges they may endure. In addition to this, the judges acknowledged and commended the teams for their admirable strategic choices in creating their ideas.
Once the presentations from the top six teams concluded, the judges deliberated among themselves to determine the winners of the 2023 Business Innovation Challenge. The decision-making process took place in a private setting, while attendees indulged in enjoyable music, appetizers, photo taking, all organized in collaboration with The Women in Business Club on campus. Stellarshopper was honored with the third-place position, while Vitologist secured an impressive second place. Finally, the first-place position was claimed by Clean Shrooms.
Clean Shrooms' vision is to bring more attention to the importance of transparent sharing of research and funding in mycology as a more environmentally sustainable solution. They hope to provide government agencies with mycoremediation services, a viable long-term solution to environmental chemical cleanup that uses mushrooms to breakdown toxic waste. Their team was presented with a generous $1,500 prize, and the winning members—Sean Isomatsu, Priscilla Boo, and Calvin Anderson—were recognized for their outstanding achievements. Priscilla, one of the members of the Clean Shrooms team, expressed her gratitude, "Participating in this competition has been a tremendous learning experience. It was completely unexpected. Last week, we considered dropping out, feeling unprepared, but Laurence Lew convinced us to stay. I would like to extend my thanks to my engineering class, Professor Sarah Parikh, Kyle Taylor, Michelle Chaires, Ciecem Lestari, and Sarah Salinas."
The entire Foothill College campus staff and students couldn't be prouder of Clean Shrooms and all the participating teams involved in this year's challenge. For more information on how to get involved with the Business and Entrepreneurship Club and its future events, follow their Instagram page.
Leave a Comment
About the Contributor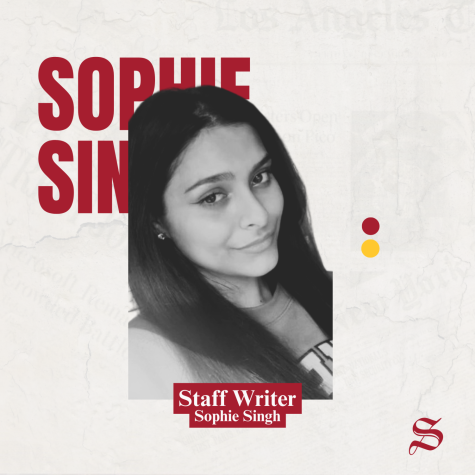 Sophie Singh, Staff Writer
Sophie is a first-year student at Foothill College, majoring in Business Administration. She is deeply passionate about writing and loves to produce poetry in her free time. In addition to this, she is devoted to her advocacy work for students with learning disabilities.
Her writing is a reflection of her passion for creating a more equitable society and education.