The Forgotten Pandemic: The Age of Loneliness
Reporting in the Bay, by the Bay, for the Bay
"Loneliness is my least favorite thing about life. That thing that I'm most worried about is just being alone without anybody to care for or someone who will care for me."  – Anne Hathaway
The Covid-19 Pandemic destroyed our collective way of life, and we as a society are slowly putting the pieces back together. Dreams were put on hold, friendships were lost to the sands of time, and motivation has been at an all-time low. The pandemic as we know it has passed, and yet the sense of being alone still remains. You're not alone, millions of Americans across all ages are experiencing loneliness at record highs never before seen in our nation's history.
Loneliness has been steadily increasing for many years now, but the pandemic caused the number of people reporting feeling lonely or unloved to jump dramatically. A research study conducted by Ipsos and commissioned by Cigna between July and August of 2019 reported:
58% of respondents say they always or sometimes feel like no one knows them well, up four percentage points from 2018.
52% report sometimes or always feeling alone, up six percentage points from 2018.
47% report their relationships with others are not meaningful vs. 43% in 2018.
45% say they sometimes or always feel that they are no longer close to anyone compared to 39% in 2018.
This data is especially frightening considering that it was collected before the Covid-19 Pandemic. As expected, has Covid-19 exacerbated this loneliness epidemic. The Roots of Loneliness Project reported, through an anonymous independent survey conducted between April and May of 2020, that before the Coronavirus 20.7% of participants said they felt lonely, and during the pandemic that number jumped to 58.1%. That's an increase of 181%, nearly three out of five people saying they are lonely. Even taking into account that a study like this would be more likely to attract those who are already feeling the symptoms of loneliness, the fact that 606 participants out of a total 1043 described themselves as lonely is still something to take note of.
Loneliness isn't "merely a feeling." Loneliness can cause serious health-related issues in the long run. The U.S. Surgeon General, Dr. Vivek Hallegere Murthy, discussed the "Invisible Cost" of the pandemic on The View in 2023, saying "Loneliness increases your risk for anxiety and depression. It also increases your risk for heart disease and other physical illnesses. And it turns out that the mortality impact of lacking social connection is similar to the mortality impact of smoking 15 cigarettes a day. It's greater than the mortality impact of obesity." The Surgeon
General also mentions that the younger generation is more adversely affected by loneliness in the United States.
The Roots of Loneliness Project during the same study on loneliness discovered that before the pandemic 24.3% of millennials reported feeling a sense of loneliness, and after the pandemic that number shot up to 61.8%—an increase of 154%. Gen X and baby boomers were also drastically affected by the pandemic. Gen X went from 16.6% before the pandemic to 53.6% (222% increase), and baby boomers went from 15.7% to 50.8% (224% increase) respectively. The pandemic as we knew it might be over, but the damage has been done. The lingering feelings of loneliness that were hidden in plain sight got thrust into the open, forcing our nation to acknowledge the problem.
So what resources can Foothill Students take advantage of to combat this? Registered Foothill students can make an appointment for therapy at no additional cost at the Student Resource Center (SRC) Building 5400. Foothill also works with TimelyCare, so students can register and make an appointment online free of charge, twenty-four hours a day, seven days a week.
Foothill also works with tbh = To Be Honest, an online mental health support group. You'll be able to have one on one coaching with a licensed therapist once a week, and you can participate in multiple group sessions a week. Something very important to note, tbh therapy sessions don't count towards your Foothill Psychological Services Counseling session limit. So don't worry about applying to one or more of these options, they are independent of one another.
For students looking to meet and interact with other students there are always clubs looking for more members. Choose from a variety of options online, or meet with clubs in person. If you aren't able to find a club you're looking for on campus, don't worry. You can contact the Inter Club Council (ICC) to reactivate a previously existing club or create a new one. Check out the ICC webpage for more details. However, if you are nervous to start or join a club, or not be able to attend regularly due to a hectic schedule, there are outside services perfect for students. I personally recommend Meetup—it's free and easy. Meetup is highly flexible, allowing individuals to opt in to user-created events, so if you can't commit due to a variety of reasons but still want to establish a group of like-minded individuals, you can.
It's alright to be nervous about reintegrating back into society, there are millions struggling with this issue. Just be aware that there are a variety of services and groups here to help, so take as much time as you need—they'll be waiting for you.
Leave a Comment
About the Contributor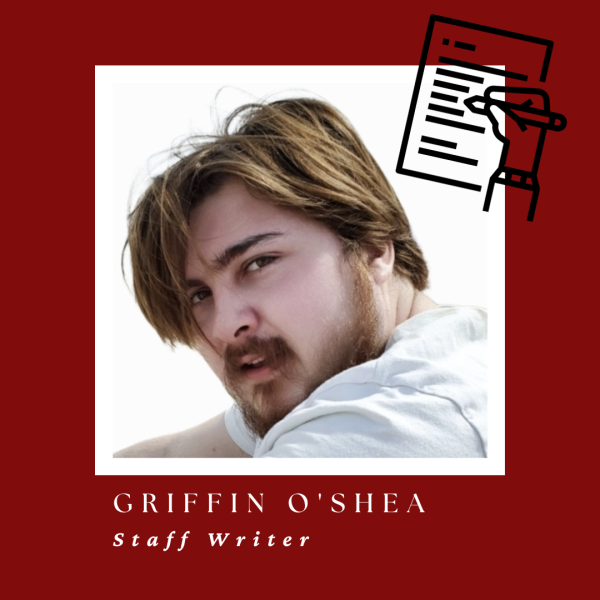 Griffin O'Shea, Staff Writer
Griffin
 is currently working towards a degree in Political Science. He enjoys keeping up on current events and is a bit of a news junkie. His interests include politics, board games, video games, forensics, risk analysis, sports, and lounging with purring cats.