The Bold Artistry of a Chicana Visionary
Unveiling the vibrant brushstrokes of Chicana art.
The Bay Area is a landmark of the Chicano movement and home to a thriving Chicano art scene. Cecelia Pérez hails from Sacramento and is currently based out of Millbrae, and her work illustrates strong women, stylish cars, and elements of old and young generations of Chicanos.
Chicano art historically has challenged dominant social norms and stereotypes in efforts for cultural autonomy and self-determination. From a Mexican-Chicano cultural standpoint, machismo polices masculinity with control and aggression. Machismo requires Mexican men to display physical prowess and social dominance and while having an ambivalence towards femininity. For example, crying would be considered a "feminine trait," and Pérez's work rejects this notion through her bold artistry.
When discussing the heart of her work, she explained, "I like to combine feminine and masculine elements to subvert the narrative. Traditional Mexican culture looks down on emotional vulnerability." She further commented, "I draw men crying in my work because that space isn't supplied for Mexican men."
Pérez's inclusion of emotional vulnerability for men in her art gives compassion to men on the periphery of the Mexican-Chicano community. Many Chicanos taught to suppress their emotions, and Pérez's art tells men that it's okay to feel their emotions and be proud of their personal expression, thus breaking away from the oppressive grasp of machismo.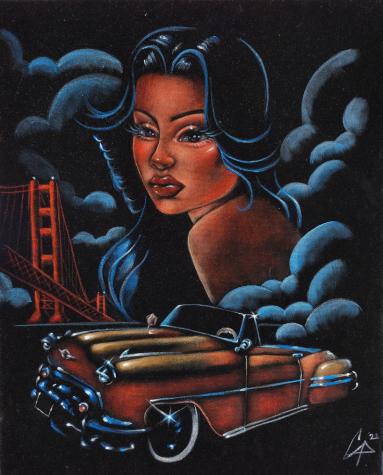 Women, however, are the primary subject reflected in Pérez's work. Pérez's art supersedes the sexualization and objectification found in Chicano art, by portraying the beauty of women as a symbol of femininity, strength, and self-reliance.
"My art resembles prison art." Pérez continued, "A lot of Chicano artists sexualize women [in their art]."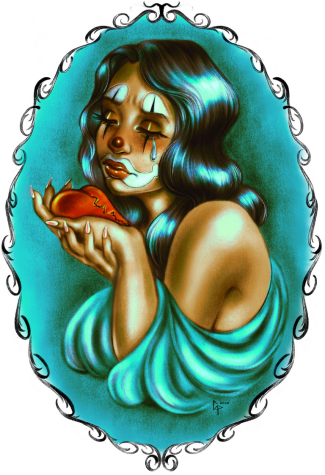 Pérez subverts the oversexualized portrayal of women in Chicano art, wanting other Chicanas to see themselves in her work to give them a sense of pride.
"Women who follow me have day jobs. They want to see something during their lunch break, so I put out art that represents strong women." Pérez explained, "There's other women like me, and they need that little motivator."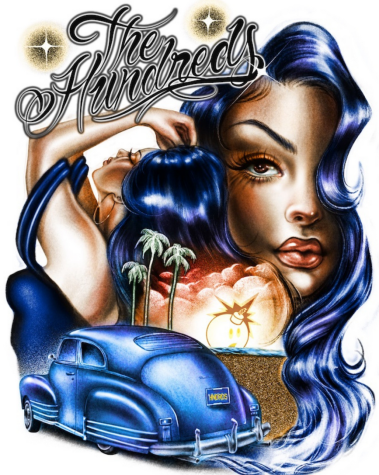 Pérez's promotion of women's empowerment also extends to other avenues, such as fashion. One design work she highlighted was a glittering design she did for streetwear brand, The Hundreds. The fluid composition of the design is reminiscent of 50-cent vending machines stickers often found in supermarkets, hair salons, barbershops, and laundromats in Latino neighborhoods.
"I want to make an impact with streetwear," Pérez said. "The Hundreds is more of a brand for boys. I hope to make a streetwear brand for girls to wear as well. Even though I already have designed shirts to sell, that's my starting point."
Apart from fashion, she strives to create cultural staples for Chicanos in the community. While she is working to put together a clothing line, she is beginning to embark on this endeavor by designing a plush doll series titled "Las Chulas" for the Chicano community. Pérez hopes to create decorative items often found in department stores that the Chicano community can enjoy, such as the infamous "Live, Laugh, Love" signs, and tailor them to the Chicano culture. Cecelia Pérez is a trailblazer for Chicana art, and her passion for her art embodies her deep love and care for the Chicano community.