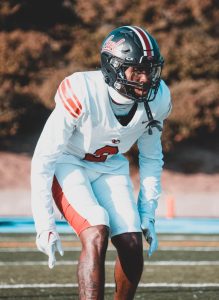 Foothill College steamrolled rivals De Anza Saturday afternoon by a score of 70-6, thus finishing their regular season. This win brought the Owls record to 10-0, finishing their regular season with a perfect record for the first time since 2019, and for only the second time in program history dating back to 1959.
The offense was firing on all cylinders as they exploded for a season high 70 points, with QB Shamir Bey manning the charge with 255 yards and 2 touchdowns.
However, the running back room stole the show with Anastasio Prado, Nate Williams, and Jaymason Howard combining for 166 yards and 5 touchdowns.  
Defense prevailed again only allowing 6 points, cementing their smothering season performance as they kept their opponent under 10 points for the 8th time this campaign. They also scored a touchdown of their own, with DB Tim Christian expertly jumping a De Anza quick pass for a 1st quarter pick-six.
The Owls averaged 42.4 points over their 10 games so far, while only allowing their opponents an absurd average of 7.2 points. This hardworking group has been dominant in all aspects of the game, rightfully deserving of this awesome accomplishment of a perfect season. 
Foothill's postseason bowl game will be announced tomorrow, November 19th. Details on time and opponent will be available on the Foothill Athletics website as well as right here on The Script. Be sure to make plans to watch the Owls compete in their season finale, looking to cap off this unbelievable 2023 campaign.