The Santaland Diaries Review: A "Bittersweet Symphony" of Holiday Cheer and Sarcastic Wit
Each year as December rolls around, it feels increasingly difficult to juggle responsibilities while still getting into the holiday spirit before it all subsides. But even in the thick of deadlines, it is hard to miss leaves falling, lights going up, and advertisements for holiday shopping. In a world full of inconsistencies, the post-Thanksgiving emergence of festive window displays and department store kiosks remains steady. It would be easy to settle for the same old, but there is something to be said for the holiday rush this year — especially with "The Santaland Diaries," which has a lot to say about the rarely-discussed Christmas traditions that drive us all crazy.
I was apprehensive about this performance — having heard about this production only a week or so before it arrived to Foothill, my first thought was "oh, it's officially Christmas time again;" I cringed at the thought of everything that needed to be done before I'd feel excited — or ready — to start celebrating. Despite my reservations, though, the play had me smiling and laughing, throughout its entire 70-minute run.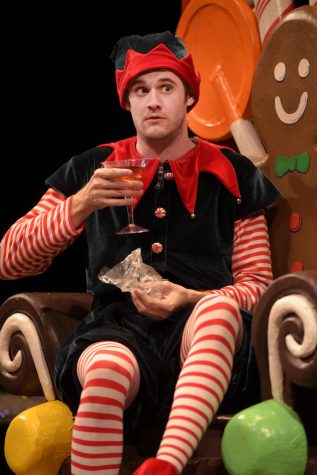 Come Wednesday night, I was enveloped by the sarcastic, seamlessly executed one-man show of "The Santaland Diaries." The show, originally written by David Sedaris as an essay describing his experience working at Macy's, was adapted by Joe Mantello and starred Max Tachis. From the moment I entered the theater, set in a child's Christmas fantasy, I saw people of all ages and types taking pictures on Santa's "Throne" — the first (but not last) instance of audience members being invited to interact with the world of the play.     
The performance, as told by "Crumpet the Elf" (Tachis) details a "slacker's" Christmastime experience working as an elf at Macy's "Santaland." Anyone who has ever worked in retail (or had to put on a costume for their job) during the holidays can relate to Crumpet's bitter dissatisfaction with greeting the tsunami of holiday shoppers in New York City — all while dressed in tights. Tachis captures this, and more, as the relatable, dynamic nature of his interpretation created a sense of familiarity in the Lohman, helping the crowd slowly open up over the course of 70 minutes. Tachis also singled out audience members to repeat lines and engage helping to build a relationship between the audience and the characters and keep them coming back for more.
Set in the Lohman Theater at Foothill College, the intimate setting provided the perfect atmosphere for audience members to be taken away by the slew of Christmas trees (with lighting cues and all), the tray of assorted alcoholic beverages (for mature audiences only,) and signs dropping from the ceiling abruptly to welcome theatergoers to Santaland.
Max Tachis, in his TheatreWorks debut, is definitely a crowd pleaser. Tachis appeared completely in his element, on par with the recognizable quality of performances TheatreWorks is accustomed to. Furthermore, the moments that connected with Max were impactful, continually drawing laughs and smiles from the opening night audience.
The play is in true David Sedaris fashion, noted Betsy Dwyer, an audience member this past Wednesday night — "You can just feel that witty, sarcastic Sedaris dialogue coming through in every word and phrase."
This was especially evident in Crumpets' over the top explanation of his everyday attire: "I wear green, velvet knickers, a forest green velvet smock and a perk little hat decorated with spangles. This is my work uniform."
Sedaris' words, coupled with Lo's direction and Tachis' comic timing could grow any Grinch's heart. Sedaris reminds us that it is okay to laugh at ourselves, though letting us laugh at Crumpet's odd-job at Macy's "Santaland".
"The Santaland Diaries" is sure to please any Sedaris fan, whose work has been featured in numerous publications, including The New Yorker. "Santaland" is also one of NPR's most requested pieces, especially during the holidays, as Sedaris captures the bittersweet holiday traditions we resent but have come to expect during the holidays.
Among them the mile-long line to see Santa, the screaming kids who monopolize the department stores, the advertisements that seem to begin a month earlier each year, Sedaris captures holiday traditions that have garnered our collective distaste and turned the holidays into more of a commodity than anything else. With direction by Jeffrey Lo, "The Santaland Diaries" is the perfect addition to your Christmas this year, whether you detest the holiday cheer that invades each Winter, or are in search of an "escape" to the satirical, mystifying world of "the north pole" as seen through the eyes of Crumpet the Elf.
"The Santaland Diaries" is playing at Lohman Theater at Foothill College at 8pm Thursdays, 7:30pm and 10pm Fridays, and 4pm and 8pm Saturdays through December 23.
Leave a Comment