Food for thought Thursdays: Immigration Policy
"The whole immigrant population isn't facing the same thing, but they're facing similar things," Teresa Castellanos, of the Santa Clara County Office of Immigrant Relations, described of two-thirds of the population of Santa Clara County.
Many students attending college are affected or know someone who is affected by recent changes in immigration policy.  In order to help inform and support the community, the Food For Thought Thursdays lecture series was created to be held throughout the Fall 2017 Quarter. Organized by Foothill College's Family Engagement Institute, the event is "a space for undocumented students and their supporters to build community and identify solutions." 
Executive Director Betsy Nikolchev defined the Family Engagement Institute as a "college bridge program, where families and educators together grow the skills, tools, and agency to navigate educational systems, and build capacity to promote family engagement, school and workforce readiness, and pathways to postsecondary education." The institute is a grant funded program at Foothill College, and plans lecture series every quarter.  
Last Thursday's event focused on the legal side of immigration, with updates on changes in immigration policy, and information on what can be done to support immigrant families. Teresa Castellanos began the presentation by describing the role and context of the Office of Immigrant Relations. The office was originally created in May 2015 by the Santa Clara County Board of Supervisors to better understand the needs of local immigrants and coordinate immigration programs and services in Santa Clara County.  Community education — including this presentation — is just one example of the office's locally based work.
The presentation went on to explain changes in immigration policy in the past year, during which time President Trump has held office. The "Border Security and Immigration Enforcement Improvement" act, which regards a wall along the United States and Mexico border, and "Buy American, Hire American" act, which orders federal agencies to review visa programs, are two notable executive orders that intend to more subtly limit immigration to the United States. President Trump's third travel ban, which specifically suspends immigration from Iran, Libya, Somalia, Syria, Yemen, Chad, North Korea, and Venezuela, with a few exceptions, has been upheld in its entirety by the Supreme Court.
DACA, the Deferred Action for Childhood Arrivals program, affects Foothill students the most. DACA provides temporary relief from deportation for those brought into the country illegally as children, and access to a work permit and a driver's license. Though President Trump signed an executive order phasing out DACA over the next 2.5 years, "United States Citizenship and Immigration Services will not refer DACA recipients and applicants to U.S. Immigration and Customs Enforcement (ICE) for deportation unless they are a risk to national security or public safety." At least 75% of DACA recipients have filed for renewal.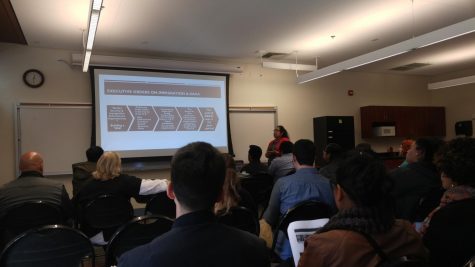 A similar but lesser known program is the Temporary Protected Status, which "allows foreign nationals to remain in the U.S., if while they were in the U.S, something catastrophic happened in their country of origin that prevented their safe return." Countries affected include Haiti, El Salvador, or Honduras. The administration is currently phrasing this program out as well, with different countries having different program end dates.
Though Santa Clara County has not declared itself a sanctuary county, it has taken actions with such sentiment. On a municipal level, 15 Chiefs of Police in the county have said they will not follow deportation orders from Immigration and Customs Enforcement. The county itself provides legal services, citizenship workshops, and a fraud prevention unit to report notarios, or those who fraudulently pose as immigration lawyers.
Santa Clara County has also put together a Rapid Response Network, a 24/7 hotline for reporting immigration raids, such as Operation Safe City. The Rapid Response Network assists those being detained by helping the caller "assert their rights", sending legal observers to the area, and providing immigration attorneys. Some cities within the county have passed Safe City ordinances, though some activists argue they do not reach far enough. The County has sued the Trump administration for threatening to pull roughly $2 billion in federal funding from Santa Clara County because of its sanctuary policies.
On a state level, California's state legislature has passed laws protecting undocumented immigrant populations. Senate Bill 154, for example, limits "who state and local law enforcement agencies can hold, question and transfer at the request of federal immigration authorities."
It is unclear if, or how, the federal government will further take action regarding immigration policy. Teresa Castellanos, however, ended the lecture on a positive note.
"We're in a time of opportunity to work together and build bridges," Castellanos said. "Even though we're facing a lot of challenges, we're also facing a lot of of opportunity."
Leave a Comment