Where to find clean air, free masks in the South Bay Area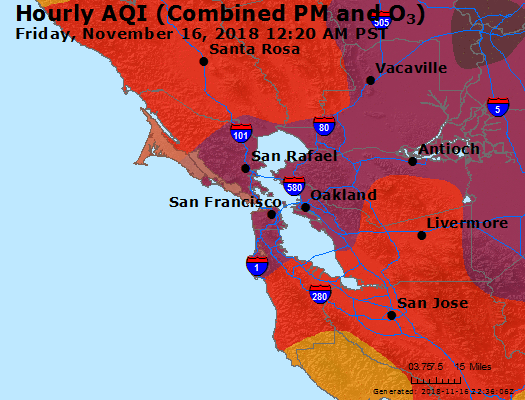 As air quality continues to worsen in the San Francisco Bay Area, cities have opened public spaces for anyone seeking refuge from wildfire smoke blanketing Northern California. Air pollutants from the Camp Fire have created very unhealthy or hazardous conditions in the region expected to continue through Tuesday.
The following locations, listed as safe spaces with clean, filtered air, are open to the public. Local Kelly-Moore Paints stores and city resource centers may be providing free N95 respirator masks.
Los Altos:
Los Altos Library – 13 S. San Antonio Rd.
Woodland Branch – 1975 Grant Road

Mountain View:
Mountain View Public Library – 585 Franklin St.
Police/Fire Station Lobby – 1000 Villa St.

Sunnyvale:
Sunnyvale Library – 665 W. Olive Ave.
Sunnyvale Senior Center – 550 E. Remington Dr.

Santa Clara:

Central Park Library – 2635 Homestead Rd.
City Hall Cafeteria – 1500 Warburton Ave
Community Recreation Center – 969 Kiely Blvd.
Northside Branch Library – 695 Moreland Way
Senior Center – 1303 Fremont St.

Campbell:

Campbell Community Center – 1 W. Campbell Ave.
Campbell Library – 77 Harrison Ave.
Cupertino:
Quinlan Community Center – 10185 N. Sterling Rd.
Los Gatos:

Los Gatos Library – 100 Villa Avenue.
San Jose:
All San Jose public libraries and community centers are open to the public as emergency services resource centers, according to NBC Bay Area. More information can be found on the  Department of Parks, Recreation and Neighborhood Services website.
Gilroy:
Gilroy Library – 350 W 6th St.
Gilroy Compassion Center – 370 Tomkins Ct.
Valley Medical Center South County Clinic – 7475 Camino Arroyo
Fremont:
Fremont Senior Center – 40086 Paseo Padre Parkway
Fremont Main Library – 2450 Stevenson Blvd.
Irvington Library – 21825 Greenpark Dr.
Centerville Library – 3801 Nicolet Ave
Niles Library – 150 I St.
Family Resource Center – 39155 Liberty St.
Washington Hospital Library – 2500 Mowry Ave.
Milpitas:
Community Center – 457 E. Calaveras Blvd
Barbara Lee Senior Center – 40 N. Milpitas Blvd
Sports Center – 1325 E. Calaveras Blvd
Milpitas Library – 160 N. Main Street
A map of poor air quality respite locations and shelters in San Francisco may be found here.
Kelly-Moore Paints will distribute free N95 particle masks with a limit of five masks per family at select Bay Area locations while supplies last. A full list of locations may be found on the Kelly-Moore website.
Cupertino: 1505 S. De Anza Blvd , Cupertino, CA 95014
Campbell: 1501 W. Campbell Ave., Campbell, CA 95008
Fremont – Decoto: 3954 Decoto Road, Fremont, CA 94536
Fremont – Fremont Blvd: 4640 Auto Mall Parkway, Fremont, CA 94538
Gilroy: 8565 Monterey St., Gilroy, CA 95020
Hayward: 28722 Mission Blvd., Hayward, CA 94544
Milpitas: 301 W. Calaveras Blvd., Milpitas, CA 95035
Morgan Hill: 820 E. Dunne Ave Suite #100, Morgan Hill, CA 95037
Mountain View – El Camino: 180 El Camino Real East, Mountain View, CA 94040
Mountain View – Fairchild: 411 Fairchild Drive, Mountain View, CA 94043
Palo Alto: 411 Page Mill Road, Palo Alto, CA 94306
Pleasant Hill: 1725 Contra Costa Blvd., Pleasant Hill, CA 94523
Redwood City: 1391 Woodside Rd Suite 100, Redwood City, CA 94061
S. San Francisco: 113 Hickey Blvd, S. San Francisco, CA 94080
San Francisco – Bayshore: 701 Bayshore Blvd., San Francisco, CA 94124
San Francisco – Divisadero: 364 Divisadero St., San Francisco, CA 94117
San Jose – Alum Rock: 2910 Alum Rock Ave., San Jose, CA 95127
San Jose – Auzerais: 710 Auzerais Ave., San Jose, CA 95126
San Jose – Bascom: 1145 S. Bascom Ave., San Jose, CA 95128
San Jose – Blossom: 469 Blossom Hill Road, San Jose, CA 95123
San Jose – Camden: 1912 Camden Ave, San Jose, CA 95124
San Jose – Saratoga: 375 Saratoga Avenue Suite C, San Jose, CA 95129
San Jose – Silver Creek: 1650 East Capitol Expressway, San Jose, CA 95121
Santa Clara – El Camino: 2057 El Camino Real, Santa Clara, CA 95050
Santa Clara – Laurelwood: 901 Laurelwood, Santa Clara, CA 95054
Santa Cruz: 1001 Ocean St., Santa Cruz, CA 95060
Sunnyvale: 999 East El Camino Real, Sunnyvale, CA 94087
Hours may vary.
Kelly-Moore Paints is no longer distributing masks as of Nov. 17th due to limited supply. This article was updated on Nov. 17 at 3 p.m. 
Leave a Comment