Silicon Valley Astronomy Lecture Series Opens 19th Season at Foothill College
The Silicon Valley Astronomy Lecture Series at Foothill College returned for a 19th season last week with a talk by Dr. Claire Max, a Bachmann Professor of Astronomy and Astrophysics at University of California Santa Cruz, and Director of the UC Observatories. The series kicked off with a discussion about new technology in the field of astronomy and the use of adaptive optics in observing the collision of galaxies.
Max started her lecture by introducing the audience to adaptive optics, a new technique allows astronomers to eliminate distortions in observations of electromagnetic radiation — or, in simpler terms, to correct deformed light. The professor explained that Earth's atmosphere has a scrambling effect on light, which people often perceive as "twinkling." The ability to observe light without its' scatter allows scientists to witness cosmic events with newfound clarity and sharpness.  
Max specifically focused on the collision of galaxies. When the gravitational forces of two galaxies begin to attract to one another, a collision is almost inevitable. However, she explained, the word "collision" doesn't actually refer to an explosive galactic crash. Because of the amount of empty space and distance between cosmic objects, it is very rare for stars or planets to collide with one another.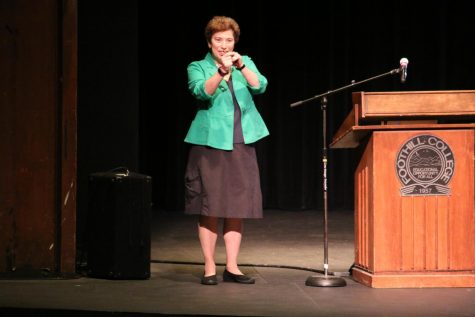 The most interesting event takes place in the center of the galaxy instead. Two supermassive black holes merge during the collision — an extremely rare cosmological event. In the past, it has allowed scientists to detect gravitational waves for the first time. And with the advent of adaptive optics, there has never been a clearer image.
Though the word "collision" implies destruction, the phenomenon often involves the generation of new stars. According to Max, these formations occur because of large amounts of hydrogen cluster and compress. These clusters create gravitational collapses, which, in turn, form stars.
The highly technical talk was delivered to an audience predominantly composed of cosmological enthusiasts — most of whom have attended many Silicon Valley Astronomy Lecture Series talks before. However, a fairly large group of passionate Foothill students also attended the lecture.
One was Leika Keys, who is taking an astronomy class at Foothill. "The lecture was interesting. I'm glad the event exists for people who want to see it," said Keys. "It's definitely not an introductory course to astronomy, so you're not going to get babied."
Foothill students can continue to learn about novel advancements in astronomy and physics at the many upcoming Silicon Valley Astronomy Lecture Series events.
Leave a Comment