Foothill College: Keep Guns Off Campus
In the seven months that The Script has been actively reporting news online, 25% of our political coverage has featured articles related to the issue of gun violence. During the same period, 27 school shootings took place across America. In an October article responding to the death of 58 people in a Las Vegas massacre, I predicted that "in the days following a mass shooting, the public will jump to investigate these questions, politicians will take minutes of silence to offer their "thoughts and prayers," and then soon, the conversation will be forgotten, until the next time." The tragedy at Marjory Stoneman Douglas High School, however, was different. The unwavering dedication and vulnerability of the March for our Lives student leaders have held the national media's — and our — attention. In a shocking break from their tradition of silence, politicians in power proposed solutions to the mass epidemic of gun-related deaths in schools — by encouraging the introduction of more guns on campus.
After nearly 300 students, instructors, and staff left class to attend Foothill College's student-led National School Walkout on March 14, The Script canvassed the community to find how the prospect of supplying firearms to instructors might affect the campus culture, and to give voice to the individuals such policies would affect.
Chinwe Idika, the student trustee of Foothill College and a featured speaker during the March walkout, believed the "idea of arming teachers — individuals who are paid grossly insufficient salaries to educate children — as a solution to our school shooting epidemic is asinine."
Schools across the nation also struggle to find funding for key mental health resources — the Mountain View Los Altos High School District employs only one district-wide school psychologist to service 3,993 students— and salaries for full time high school teachers average below $50,000 in 23% of states. As America's schools continue to tighten an already chokingly small belt, many like Idika question how "such a destructive measure [could] be implemented when the U.S. Department of Education is currently losing funding."  
Foothill College President Thuy Nguyen attended the walkout and stated she is "immensely proud of Foothill students who are standing united with the students from Parkland, Florida and around the country to call for sensible, bipartisan gun control laws."
"Foothill College is ranked number one safest community college in California — second in the country.  The physical well-being of our students on campus is of the utmost importance, and thus, even with such record, we continue to be vigilant," continued Nguyen in a statement to The Script.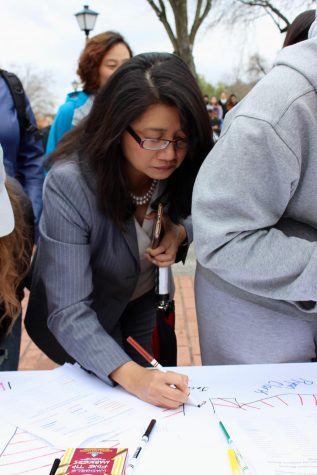 When asked about President Trump's proposition to arm teachers, Teaching and Learning Center staff member Josh Pelletier stated that "[t]he environment on campus would inevitably change if teachers and staff were armed."
"I would not feel comfortable being armed… [or] support this idea at Foothill College. My assumption is that carrying a gun would set me constantly on edge, would put me into a state of anxious vigilance. I assume I would be the first target in the event of a school shooting; furthermore, charged with protecting the entire campus, I assume I would always be looking for trouble — something an educator should never need to be trained to do," continued Pelletier.
Eoin O'Farrell, a political science major and Associated Students of Foothill College senator, explained that "By introducing more guns into the situation, we are simply ensuring more confusion when law enforcement officials do arrive to put an end to the bloodshed. Furthermore, events like Parkland have proven that most everyday people, even with training, are less than enthusiastic about entering a building where a heavily armed mass murderer is roaming the halls."
The safety of students in the presence of guns cannot be assured even by teachers highly skilled in firearm handling. In a Monterey County school just over an hour away from Foothill, Dennis Alexander — an armed teacher, reserve police officer, and the mayor pro tem of Seaside — discharged his gun, lodging bullet fragments in a 17 year old student and injuring one more during a gun safety lesson as part of an Introduction to Fire and Police/Public Safety course. The next day, thousands of schools across the United States — including at Foothill — held walkouts to protest gun violence on campus.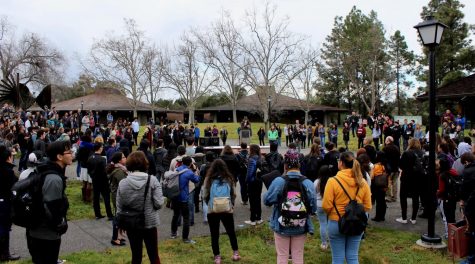 Though discussion of mass shootings was largely centered around incidents at schools, many noted the importance of addressing gun violence in the larger community.
"Protecting our nation's students should not fall on school employees because gun violence is not a problem inherent to education. The alternative to arming teachers and staff at schools is disarming the population, at large," said Pelletier.
Tensions that arise with positions of power are amplified with armed authorities, and implicit biases are often among the causes of fatal shootings by such figures — like in the case of Stephon Clark, a 22-year-old, unarmed black man shot dead by Sacramento police while in his grandmother's backyard. Teachers may fall to similar patterns when excess authority is granted through sanctioned weapons and when changes in classroom power dynamics occur.
"When I first meet a professor, I don't know much about them other than that they're teaching [a] subject and have a degree of sorts. I don't know much about their history from before I stepped foot in the classroom on the first day of the quarter. If the federal or state government were to arm teachers, I likely wouldn't know how extensive their training was with a firearm, their shooting precision, or whether they had ever been a similar scenario before and actually knew how to handle it. None of that is going to be disclosed in the syllabus," said Idika. "Mild biases against students will almost inevitably lead to tragedy if even one teacher happens to be unstable or violent and decides one day to lash out."
"
The alternative to arming teachers and staff at schools is disarming the population, at large."
— John Pelletier
The probability of armed instructors may be low at Foothill College, but the national debate about gun policy and reform affects every individual. Schools have become a beacon for advocacy in the fight to end gun violence, yet propositions to increase weapons on campuses have gained popularity and support from majority party politicians and the president in recent weeks.
In a closing statement, O'Farrell painted a chilling image. "A teacher in front of his or her class accompanied by a holstered weapon turns our educators into reminders that we as a nation have simply accepted these shootings as the new normal. Instead of a source of comfort and knowledge, a teacher becomes a symbol of a system so utterly broken that we cannot even protect our nation's students."
A former version of this article with the headline "Foothill College Says No to Guns on Campus" was printed on April 9th.
Leave a Comment