Foothill College's First Research & Service Leadership Symposium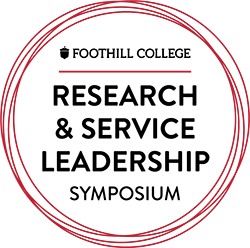 On May 17th, 2018, Foothill College will proudly present its first ever Research & Service Leadership Symposium. Inspired by a love of research and student engagement, coordinator Ben Stefonik decided to introduce the event at Foothill to give students, faculty, and staff the opportunity to present their research and leadership work in their community. Presenters will have the option of showcasing their work in either a 90 minute poster session or as a 10 minute talk.
Students who opt to participate in the poster session will be presenting next to their poster simultaneously to their peers, with the audience free to move around the room. This style of presentation is similar to having multiple conversations with individuals, and is modeled after poster sessions at professional research conferences.
Students who decide to give a 10 minute talk will present in front of an audience of Foothill students, faculty, and staff. They will be grouped along with three other short talks in one of many one-hour sessions.
All students, faculty, and staff are invited to attend alongside friends and family. The event will begin at 8:30 am with an opening ceremony featuring addresses by coordinator Ben Stefonik, Foothill president Thuy Nguyen, and a keynote speaker. This will followed by research and project presentations scheduled throughout the day. Activities will be centered around the Hearthside Lounge and the Toyon Room.
The deadline to apply to present at the Symposium is Friday, March 16th. Students who have conducted any type of research that adds value to society, a body of knowledge, or a community of people can apply. Students who have also shown service leadership, community engagement, or have participated in a social or environmental justice project can apply. Research projects from all disciplines are welcome, though preference will be given to projects with an emphasis on social welfare, environmental justice and community enrichment.
In an interview, coordinator Ben Stefonik outlined his inspiration for starting this event at Foothill and offered words of encouragement to students who are thinking about applying to present.
What were your primary inspirations for pioneering this event?
I wanted to give students a platform to showcase the great work that they're doing, and in that same vein give them a competitive advantage for being able to transfer or being able to get into a research lab by having a conference presentation experience under their belt. In addition to that, I also wanted to provide a platform to inspire more of this type of work. I think this is a great way to inspire and increase the number of research projects that students engage with and service leadership projects that students engage with. Lastly, I just wanted to create an event that pulled together all of the great works that are happening on campus, and provide a focal point for all of these different strands of work that are happening on campus.
Do you have any words of encouragement for students who may be on the fence about applying for the Symposium?
Yeah, absolutely. I think that presenting in front of your peers and in front of even faculty members in this type of way can be a tremendously gratifying experience. These are the types of experiences that are probably the most meaningful, or can be the most meaningful, to your own personal education, because you are personally taking the initiative to develop an expertise on a topic or to engage in helping solve a problem in a community, or helping raise awareness about an issue. It gives you the opportunity to really provide self direction to your own education, and that type of experience is something that you will probably get a lot of value out of, and it will mean a lot to you. It's the type of thing that you're going to remember 15 years down the line. You're going to probably forget what your psychology professor said in the classroom, but you'll probably remember the project that you did for the symposium. These types of experiences where you go out and develop some expertise and showcase what you know can be really personally meaningful, and I think students can grow a lot from engaging in this type of work.
Leave a Comment