Preview: Men's Basketball take on the Solano Falcons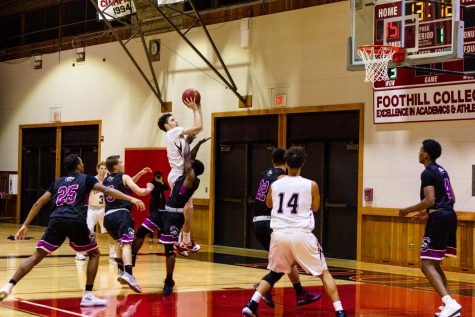 The Foothill College Men's basketball team will hit the road today where they will face the Solano Falcons in the West Valley Tournament in Saratoga at 4 p.m.
Matchup at a glance
| | |
| --- | --- |
| Foothill Owls | Solano Falcons |
| 7-5 | 4-4 |
| 3rd in Coast-North | 5th in Bay Valley |
| PTS: 74.3 (45th) | PTS: 43.0 (95th) |
| REB: 31.2 (80th) | REB: 16.9 (96th) |
| AST: 14.3 (44th) | AST: 7.3 (96th) |
This will be the first away game after three consecutive home games and will mark the beginning of multiple games on the road until the New Year.
The Owls are ready to get back into the win column against the Falcons after losing their last game to the Contra Costa Comets, 80-85.
The Foothill team wason a three game winning streak prior to their loss on Wednesday and are eager to face the struggling Falcons.
The Owls offense has improved this past season which will help the team blowout the Falcons. In their first six games of the season, the Owls went 3-3 with an average of 65.2 points per game while scoring just 70 or more points three times. The team has turned it around though, where they averaged 81.5 points in their last six games while scoring 70 or more points six games in a row and going 4-2.
Their offensive scoring has improved as the season has progressed with an average of 74.3 points per game for the season.
The Falcons' offense is nearly an exact opposite. Although they have exceeded 70 points three times this seasons and are a perfect 3-0 in those games, this team has failed to exceed 70 points five times this season and are 1-4 in those games.
Look for the Owls to be successful offensively due to their efficiency on the court. In the past four games, they have made at least 35% from the field and from beyond the arc and are 3-1 in those games.
Team Leaders
| | |
| --- | --- |
| Foothill Owls | Solano Falcons |
| PTS: Matt McAndrews (20.1) | PTS: Leon Williams V (16.4) |
| REB: Alex Gil-Fernandez (5.9) | REB: Trevaughn Ross (6.6) |
| AST: Matt McAndrews (3.7) | AST: Leon Williams V (3.4) |