Clubs 101: The real clubs of Foothill College
When I first came to Foothill College, I thought that college life would be like what I saw in movies and TV shows: partying all night, forming study groups with quirky classmates and maybe building a blanket fort. Like many international students, I didn't even know clubs existed For those who may be wondering what clubs are, just know that they can be anything and everything: there are clubs that encourage volunteering, like the Foothill Circle K International; clubs that are focused on academics, such as the Psychology Club; and other clubs, like the Hong Kong Student Union, are all about identity.
If you want to find out about some of the clubs that will be active during the Fall Quarter 2017 you can attend Club Day, which will take place in the Library Quad Wed. and Thurs., Oct. 4 and 5 from 12pm to 1pm. During these two days, you'll get to meet and chat with members and officers from several clubs, as well as join in different activities hosted by these clubs.
So, is joining a club worth it? While I wasn't invited to that many parties and blanket forts were nowhere to be found, I discovered that clubs provided me with a place to network, meet friends and hang out between and after classes. Had I not joined some clubs that sparked my interest, I wouldn't have felt the strong connection I currently have with Foothill and several classmates.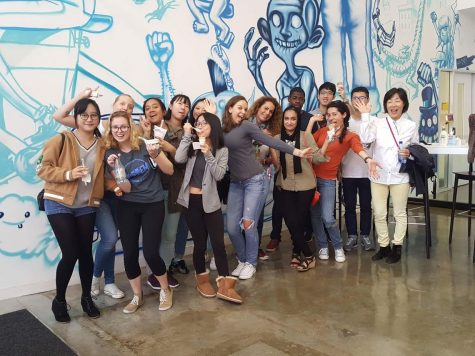 But clubs aren't only a way to make friends: according to Erin Ortiz, Student Activities Specialist and Inter Club Council advisor at Foothill, being a part of a club in college helped kick start her passion, major and career. When she began her career, her club and other leadership experiences helped her be successful and stand out among the competition. And when it comes to college applications, internship and jobs, getting involved with clubs can make you a stronger candidate.
But what if the clubs that exist can't satisfy your needs or fit your passions? In that case you can easily start your own club, like Olivia Longhetto, president of the Future STEM (Science, Technology, Engineering, and Mathematics) Leaders of America club, did when she felt like none of the STEM related clubs were all-inclusive. Similar to her, Jocelyn Lombera felt that the campus lacked a club that focused on advocating for gender equality for women, men, and members of the LGBTQ+ community, and decided to start The We for She Club during the Fall Quarter 2017.
One of the scariest parts of starting a club could be finding and asking someone to be the club advisor, but fear not: in Jocelyn and Olivia's experience this wasn't a hard task. While Jocelyn felt like her counselor, Lety Serna, was the perfect choice, given Serna's previous experience as a club advisor and her commitment to several women's support groups, Olivia knew that one of her STEM professors would be the best resource for the club officers and members. When it came to asking, both of them just went for it and received a positive answer right away.
Once your club is up and running, make sure you keep it up: one of the club members will need to become the ICC Representative. This officer will not only be the face of your club, but will need to make sure they submit all the necessary paperwork on time and attend the ICC meetings, Tuesdays at 3 pm. You'll also need to find a room where you'll meet, set a time for your meetings and write a constitution. If you hit the ground running, you can even advertise your club during Club Day, which will be held during the second week of the Fall quarter.
Clubs are awesome, and if you want to start a new one, make sure you get a valid student ID, valid Owl Card and the signature of five preliminary club members (and decide who'll be the ICC Representative), find a faculty/staff/administrator advisor, and make sure you submit the Petition to Activate/Reactivate/ Recommit a Club, which you can find in the ICC Handbook for Leaders and Advisors. If you have any questions, don't hesitate to contact Erin Ortiz at [email protected] or visit her at her office in room 2008.
Find The Script staff at Club Day tomorrow from 12-1 and on Thursday at the same time!
Leave a Comment