Preview: Men's Basketball take on the Feather River Golden Eagles
The Foothill College Men's basketball team, (5-4) so far, will face the (7-2) Feather River Golden Eagles at 4 p.m. tomorrow in the Main Gymnasium at Foothill College. This will be the first and only matchup between these two teams this season.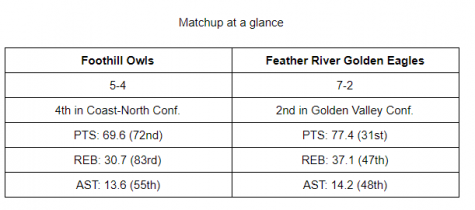 Last game's starters:
Owls: Aaron Moore (1), Matt McAndrews (5), Alex Gil-Fernandez (10), Joe Pitocchi (14), and Chris Russell (20)
Golden Eagles: Calvin Fletcher (2), Ladrakkus Thomas (4), Jamel White (5), Cody Bourque (10), and Gerard Andrus (12)
The Owls are eager to beat the Feather River Golden Eagles after their 77-67 dominant win over the Cabrillo Seahawks, who are 4-5 so far this season.
When the Owls are performing their best, they make plays that take advantage of their players' shooting abilities and plays with a high percentage of successful two-pointers and three-pointers. Of course it is statistically impossible for Owls players to make every shot they take, so avoiding the ill-advised attempts on the floor and beyond the arc is something the team will have to remember if they want to win tomorrow's game.
In previous games, the Owls have a record of 4-1 when making more than 35 % of their shots from either the field, three point line, or both — whereas they have a record of 1-3 when they make less than 35 % of their shots from either the field, three point line, or both.
In theory, more shots attempted coupled with more shots made means more points for the Owls and fewer chances for the Golden Eagles to rebound the ball and score.
Unfortunately though, the Golden Eagles are statistically better at rebounding and scoring this season than the Owls; with the Golden Eagles averaging around seven more rebounds and eight more points than the Owls per game. Because of this, it is imperative for the Owls to limit the rebounding and scoring done by the Golden Eagles by making significantly more of their shots than the Eagles — and it is vital that the Owls defense to apply pressure on the opposing players, ultimately leading to turnovers or missed shots.
All in all, if the Owls can be lockdown defenders, pinpoint shooters, and A+ rebounders, they will have a good chance of winning the game.

Brian So
Leave a Comment