Dia de los Muertos Celebration & Costume Contest
A myriad of magical, mythical creatures from all around the Foothill Campus gathered to celebrate Dia de los Muertos, or the Day of the Dead, on October 31 from 12.00 – 1.30pm in the Library Quad
According to CAP Coordinator, Antoinette Chavez, "[Dia de los Muertos] is a celebration inviting those that have passed on. Inviting their souls here to our altar, and here on the altar we put something that they like while they are on earth, so they can come and enjoy it while they are here."
Aztec dancers, traditional foods like tamales, sugar skulls, and pan de luche, and a costume contest drew a large crowd to the heart of Foothill College. Dia de los Muertos is a cultural celebration which dates back to Aztec tradition. It is not only a recognition and acceptance of death but also a celebration to honor deceased loved ones. 
Aztec Dance
After an introduction, the gradual thud of drums invited the entry of the Aztec dancers. Dressed in their traditional regalia, they danced to the drum beats — offering prayers to the deceased.
After the dance routine, a dancer from the group took the mic and announced, "We are not here for Halloween, we are here for Dia de los Muertos. What we are wearing are not costumes, these are regalia!" Though Dia de los Muertos is commonly conflated with Halloween, it is a celebration to honor and invite the ghosts of loved ones, whereas Halloween — with ancient Celtic roots — is a celebration to ward off ghosts.
With vigor and grace, the Aztec dancers shared their old traditions with the Foothill Campus. The fire, smoke, music, and complex footwork captivated the crowd.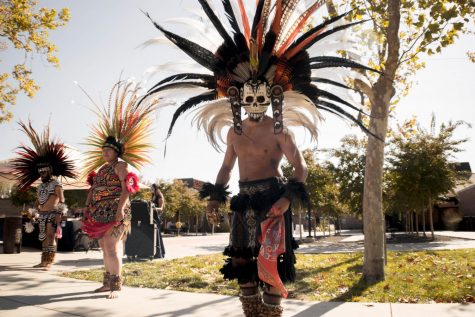 In an interview, an Aztec dancer, Karen Marin, explained the significance of some elements of the performance: "The smoke travels up and all of our prayers and energy is taken to the heavens." She also explained why their dancing movements feature a series of stomping steps: "Every single step that we make connects us as a whole, with the mother-earth, with ourselves, and with the spirit world."
When asked about the significance of the shakers dancers wore at their ankles, she laughed, "These shakers, you see, are rather new — they have only been used for several hundreds of years." To consider several hundred years as recent is a testament to the history of Dia de los Muertos, which began about 3000 years ago.
Facepainting, tattoos, sugar skull decoration, and food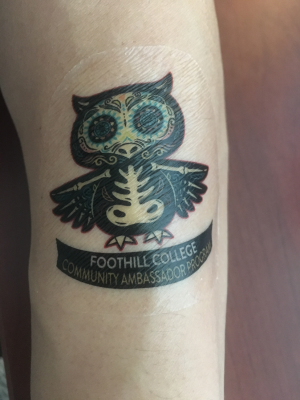 In an attempt to bring out an all around feel of Dia de los Muertos, there was an array of booths to attract the attention of Foothill students passing by. Facepainting was provided and artistic students gave participants a traditional skull (calavera) makeup. To match the face painting, temporary tattoos provided for a festive feel — featuring the Foothill Owl wearing calavera makeup of its own.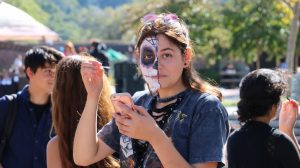 Isabel Jimenez, a Foothill student enjoying the event as a black cat, said "It gives you a bigger and broader view of the Mexican culture".
The iconic edible sugar skull decorations (Calavera De Azucar) was an exclusive feature at one of the booths, open for students to decorate and immerse themselves in the cultural celebration.
"The sugar skull is significant for the altar, so a lot of times, remember what I said we provide something to a deceased one, so maybe they like sugar or candy so we would decorate it and put it on the altar for them." Antoinette Chavez commented on the skull candy booths.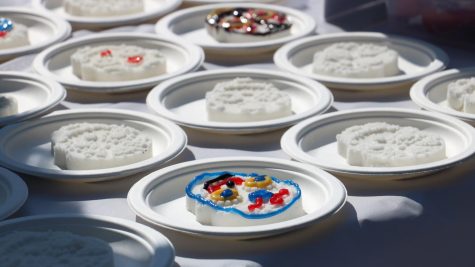 There was a long line for the traditional food as well: the event featured traditional foods such as the pan de dulce.
Costume Contest
A costume contest was hosted along with the traditional Aztec celebration. Some participants brought in intricately designed costumes prepared weeks or even months in advance. To appear as the magical-mythical creature of choice today, many spent several hours to create or acquire their costumes and woke up especially early to put everything on perfectly.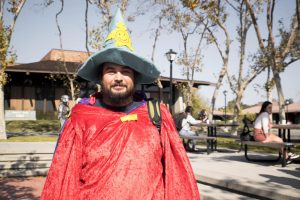 The Grand Wizard King from South Park, took about 2 weeks to find all the right materials for his costume.
"I started suiting up early this morning. Like the suit itself took over 2 months to build." said the Predator from Aliens vs Predator through its mask. "Takes like half an hour or so to actually put on the entire costume."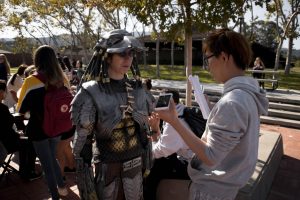 After an announcement by the emcee, a line was formed comprising of all competing supernatural beings (or creatures) as they took turns to display their costumes to a panel of judges.
Amongst dozens of creatures from legends and myths vying to be nominated as the victor — Oscar Ramirez (dressed as Star-lord from Guardians of the Galaxy) won first place in the costume contest!
"It took me a couple of weeks to like… collect all the parts."
But it was worth the effort for Star-lord, as he walked away from the costume contest with a $100 dollar voucher. "I feel ecstatic!" he exclaimed.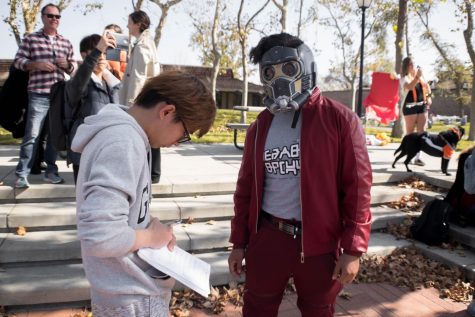 Spotted by the Paparazzi
Even the college staff were engaged in this event! Professor Daphne Small – the director of student activities – was spotted dressed up as Superwoman hanging out with President Thuy, dressed as the vengeful fairy — Maleficent.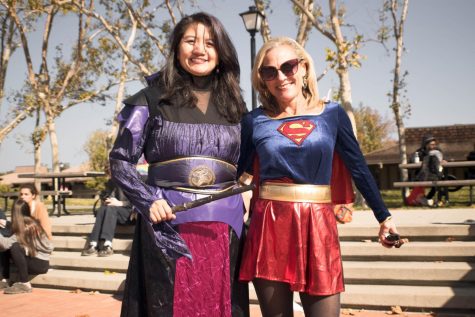 This event was organized by the Foothill CAP in partnership with the Campus Bookstore.
View Comments (1)