Northern California Fires: Impacts and Analysis
October 22, 2017
Over the past week, the Napa fires in northern California have been widely discussed by the public and the press, with 42 deaths now associated with the disaster. The Bear Fire in Santa Cruz, roughly 35 miles from Foothill College, has generated less renown. Though, it hasn't reached nearly the level of devastation as its northern counterpart and is not currently considered a significant risk having covered only around half a square mile of land. But the presence of these fires, along with a recent scare in Marin County, reveals the disturbing prevalence of wildfires this Fall. Why is California experiencing such a severe fire season? Surprisingly, the increased rainfall last wet season may have played a significant role. Not so surprising, though, is the role of climate change.
Last Winter, the infamous California drought, which was partly caused by the natural swings of Californian weather patterns, but made significantly more severe by climate change, ended with a period of significant — and disastrous — rainfall which was also influenced by climate change. One might expect the rain to lower the fire risk, but in the long run, the increased vegetation growth meant that, though the new foliage was initially less flammable, once it inevitably dried out, there was a lot more of it to catch and spread fire  — essentially turning the state into a tinderbox.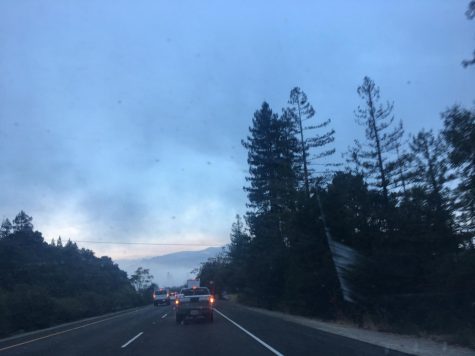 Of course, foliage in California is only so dry now because of the strikingly high temperatures in recent months. In September, Napa Valley's temperature averages reached well over 100 degrees. In combination with the newly virulent vegetation and drought-induced dry ground, these high temperatures helped create conditions for widespread wildfires.
The number of unusually hot days — as we experienced in the recent Californian heatwave — as well as temperatures themselves, have been gradually rising as a product of climate change for decades now — undoubtedly affecting the dryness and flammability of California's vegetation. And, as reported by Scientific American, climate scientists suggest that climate change played a significant role in the fires.
Of course, it's impossible to point to climate change as a smoking (no pun intended) gun in the case of the fires. But it did have a notable effect on nearly all the factors which played into the disaster. And recognizing that common thread is very important.
In the case of the Northern California wildfires, the story isn't just about the counterintuitively dangerous repercussions of environmental factors such as rainfall. It's a story about a region whose naturally swinging climate conditions have been — and will likely continue to be — amplified by increased carbon emissions. Unless immediate action is taken, this trend will hold. Which is why, now more than ever, it is vital to recognize the complex factors which play into natural disasters — especially when those disasters are at our doorstep.
This story is an on-going series on the Northern California Fires and will be updated as information is revealed throughout the following weeks. Check back periodically for updates. 
With Northern California Ablaze, President Trump Ignores Disaster
Death, destruction, and despair. The chain of fires in Northern California have claimed 383 square miles of land, reduced 7,700 structures to rubble, and left ashes in its wake; since its fiery outburst on the 8th of October, 42 lives have been lost. The TUBBS fire alone is considered the most destructive of California's history of wildfires, and it is still burning. It has become an expectation of US presidents to visit major disaster struck areas as a form of compassion — yet in this case, President Trump has either forsaken Northern California or deemed Californians not important enough in his political maneuvers.
On October 16, Trump praised the response of the Federal Emergency Management Agency (FEMA), military, and first responders; however, the President is not planning to visit Santa Rosa to survey the aftermath of the most devastating fire in California history. It is worth noting that, despite the President's non-presence, his administration is, in fact, acting to aid California — Governor Jerry Brown commended the Trump administration on their fast response to California's request for federal funding. The administration's fast response allowed the president to approve the major disaster declaration for California within 2 days of the fires and made federal disaster assistance available to the state.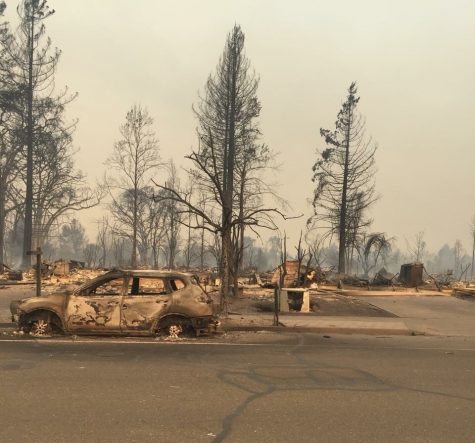 Laken Lea
It is arguable that president did not need to physically visit. A presidential visit would be unlikely to tangibly change the situation, after all. But a symbolic show of empathy and support is still valuable; it has become customary in American political culture. A visitation would be a sign that the country's commander will be there for the victims of the Northern California fires; a move that may foster the mending of the social segregation in California formed by arguably the most divisive election campaign in US history, gaining the president political traction in the process. In spite of this, the president plans his absenteeism.
As a result, negative sentiments are brewing. Trump recently visited Las Vegas for the victims of the worst mass shooting in the history of the United States and traveled to Puerto Rico to express his condolences for the destruction from Hurricane Maria. Yet faced with an inferno, Northern California has been acknowledged with a single tweet from the President.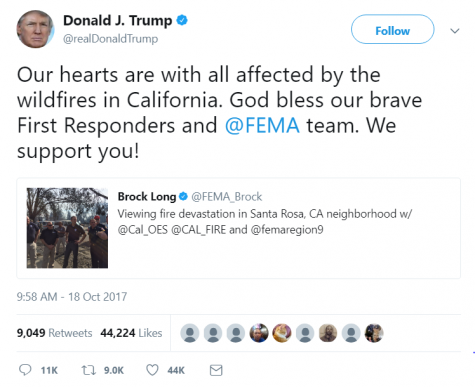 Could this relative apathy be related to California's political noncompliance with the President's agenda? Could this be attributed to Trump's disapproval for sanctuary cities displayed by his pushes to end funding for those protecting the deportation of "aliens?"
Though Trump has had a rough relationship with California — the state may have caused him to lose the popular vote in the 2016 general elections — 31.5%, an estimated 4.5 million Californians still voted for Donald Trump. If Trump does not show compassion and backing in the midst of this heat, right-wing Californians may be less inclined to vote for him during the 2020 elections. However, this may be politically irrelevant to Trump's campaign if he manages to carry Michigan, Wisconsin, and Pennsylvania and once again retain support from Florida.
Regardless of the likelihood or politics of a Trump appearance, firefighters and first responders from all over the country have made their way to Santa Rosa to provide assistance and fight the blaze. Although the fire is almost contained, serious effort will be required to efficiently clean up hazardous debris left in the wake of tragedy. Volunteers and donors are giving what they can in contribution to the community; the situation is stabilizing due to the unwavering fire suppression efforts and generous response. With the President's current neglect of California's well-being, our support of fellow citizens is more important than ever. You can help too.
Is PG&E Responsible for the Santa Rosa Fires?
The privately owned, state regulated energy giant PG&E may have had more of a hand in the recent devastation caused by the Sonoma County fires than they care to admit. As previously mentioned by The Script, those record setting blazes were caused largely by an unfortunate combination of extreme weather phenomenon — but PG&E's shoddy maintenance practices also likely contributed to the flames' rapid progression.
PG&E has tried to deflect most of the blame onto nature, drawing attention to the hurricane force winds and dry conditions in the area during the disaster. But as reported by the Mercury News, people like Burlingame attorney Frank Pitre, who is suing on behalf of the victims, aren't allowing the company to shirk responsibility — "It was more than just a lack of maintenance [on PG&E's part]. It was a complete disregard for their requirements of vegetation management in rural areas."
A Public Utilities Commission audit from 2010 to 2015, also brought to light by the Mercury News, recorded 3,527 instances of "[PG&E] work orders completed past their scheduled date." One report from the audit detailed that there was "foliage found to be less than 18 inches away from a primary electrical line for a power pole in the Sonoma Division," corroborating Pitre's accusation of PG&E's negligence.
And the potential threat to public safety fostered by the company isn't limited to noncompliance with vegetation maintenance requirements — PG&E also has a considerable record of transformer explosions. KTVU reviewed the first responder radio broadcasts during the start of the fire, and noted that "crews on the ground called in downed wires and a blown transformer… 15 minutes later, crews can be heard reporting a fire in the same area."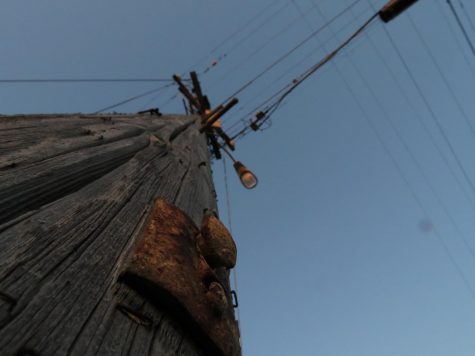 Transformers are, thankfully, not meant to explode — even in the face of elevated electrical input or output. An explosion caused by an excess of energy can occur in the event of an extreme surge, most commonly a lightning strike, but there are breakers in the power grid to deal with small spikes. The usual cause of transformer explosion then, is lack of maintenance; as corroded or exposed wiring inside a given unit can heat the sealed vessel until it bursts. The failure of multiple transformers during the Sonoma county fire, though not likely significant fuel for the blaze, further supports accusation of PG&E's subpar equipment maintenance.

This isn't PG&E's first high profile failure either — far from it. Just weeks after the Northern California fires began burning, a landslide in San Francisco damaged six homes and has been attributed to a faulty pipe relocation. A 2015 wildfire in the Sierras was caused by neglected PG&E power lines. A 2010 pipeline explosion in San Bruno, California killed eight people and destroyed thirty-eight homes. A 2016 warehouse fire in Oakland killed thirty-six people during an illegal party (though PG&E is not directly at fault for this event they are being sued for oversight; for failing to notice and report on the repeated and anomalous electricity surges at the warehouse, caused by the illegal events regularly held there.) The list goes on.
The history of irresponsibility suggests PG&E is not without fault for the disaster. Is that to say that PG&E should be held accountable for all the damage caused by the fires? Of course not, but they are likely not blameless — and they certainly could have done more to minimize the contribution to the blazes made by their neglected equipment.
Despite being state-regulated, PG&E is a privately owned corporation whose primary motivator is, and always will be, financial gain. That does not discredit the work PG&E does, providing power to millions across California — though the company recently hiked their rates. PG&E claims this is to "ensure clean and reliable operation," but their history — as delineated by the examples of negligence above — seems to indicate that the company is more interested in profitability than in providing citizens with a "clean and reliable operation."
Alternative energy providers exist, but PG&E has the rights to the electrical infrastructure and is the company in charge of repairs. For the time being, Bay Area residents are stuck with PG&E working the grid.
Those in the Bay Area concerned about the future responsibility of PG&E will be reassured to learn that PG&E stock plummeted from $69 to $53.43 from October 11th to the 15th. This is the lowest stock prices have been since February 2016, and indicates frustration and disapproval from investors. The investigation into what caused the wildfire is still ongoing, but if PG&E is truly to blame, they have much to answer for.