Queer Visibility: The Matter of Unambiguous Presentation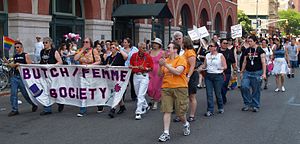 Hang on for a minute...we're trying to find some more stories you might like.
Appearance and presentation are odd things, personal things but not wholly private. Multifaceted things; highly different when alone than when in public, visible to others, and further wrinkled when one is part of the LGBT community.
When it is visible to people, friends, classmates, any given person on the street, appearance ceases to be an inevitability that comes with owning a body, and becomes a crafted performance. The clothes one wears, the way one styles their hair, all affect the way they are perceived by others. In a benign sense, band shirts might clue in other fans that they've found a new friend. But just as easily as presentation can reveal a comrade, it can reveal a someone to avoid associating with.
Somehow, appearances do not seem to belong solely to the people they occupy and coat. There are unspoken implications behind the aforementioned clothes and hair, what they are perceived to say about who one is. Along with these implications are suggestions, rather forceful ones, that float around in the sky and on the interwebs delineating what to wear and how to wear it. For women these unspoken commandments are especially harsh and especially rigid, and non-conformity is often met with gossip – if not outright hostility. We must wear mascara. We must tend our eyebrows. We should not walk around bare-faced. (Though, 'bare-faced beauty' does seem to be the latest trend.) If a woman's appearance does not fit a certain mold she has 'let herself go,' and is a lightning rod for suspicion and boredom now that she is conspicuous.
But what determines these ever changing, and highly arguable, rules that govern women's public appearance? And, assuming something does, why?
Though the rules themselves and the severity of their effects are absolutely debatable, the main source of them is not. Most would agree that it is simply: what men find most attractive. Whether or not a given trend or expectation for women's grooming habits is attractive to all men isn't particularly relevant, as women feel pressured to present an image that is appealing to men regardless; and take cues from sources such as magazines, or news articles. Well sure, seems logical that women should desire to attract men for eventual romantic or sexual relationships. But what about women who want to attract women, and only women? Where do those implicit rules on presentation leave us? Torn, for starters.
I'm a lesbian, but I still felt obligated until recently to present an image deemed attractive to men by the zeitgeist. Though I'm sure it was due in part to the compulsory heterosexuality all young lesbians, and all queer people, experience, presenting as conventionally pretty and feminine also came with very tangible perks that did their job at persuading me to leave my appearance unchanged. Kindness, attention, and the assumption of heterosexuality.
But as any queer person knows well, being perceived as straight can be as detrimental as it can be beneficial. Beneficial in that it allows one to pass under the radar, to avoid harassment both physical and mental. But detrimental in that it is stifling; stifling to have to deal with unwanted attraction of those one is not attracted to in kind. Detrimental also in that: it prevents easy identification at the hands, or eyes, I guess, of other queer people. In the sea of heteronormativity that is most queer adolescent's lives, a like-minded community can be essential to our sanity. So then, keeping in mind straight passing still has its advantages, there is a choice to be made by queer people. To be seen, or not to be seen.
Well, there are many factors that sit like so many metaphorical weights on a set of equally metaphorical scales that decide how visibly queer one chooses to be. One's region, family, friends, even school to name just a few. And the key thing that ties together these factors, (sorry, my earlier metaphor has been abandoned; but picture some fishing weights tied together if you wish) is a queer person's safety. Even more simply than that, our comfort. When choosing whether or not to lose a large part of my identity in the assumptions others make based on my appearance I had to decide, was it worth it?
Worth it, to hear comments like: "So, what happened to your hair?" and "Why won't you let your hair grow? It's so beautiful." and "You've made your point with the skinhead look alright? Enough."
Worth it, to experience daily the sentiments that were always hovering just out of sight, out of reach, when I had presented less homosexually. That my appearance, and my hair, does not belong to me. Are not for me. That the way I look is for the pleasure of men and not something that I own, something that I can use to express myself, something for women.
After nineteen years I've decided, yes. Yes, it is worth it.