With Great Police Authority, Comes Great Responsibility: The Need for a Connected Police-Student Community
Hang on for a minute...we're trying to find some more stories you might like.
My encounter with the Community Service Officer (CSO) was uncomfortable, criminalizing, and, yet sadly, not entirely unexpected. In my car — studying before class — I was approached and asked to roll down my window to be immediately and aggressively interrogated about my license plate. He berated me in an accusatory tone and threatened the towing of my car. I had never seen or spoken to this man before, but he addressed me with the unprofessional familiarity of someone talking to a repeat offense degenerate.
While some people may think I am being a whiny child that does not like authority, I'm the type of person who thanks an officer for giving me a ticket I deserve (yes, this has actually happened). I'm not upset about being approached, I'm upset about the way I was approached. When the interaction began I was assaulted with a barrage of questions: where was my license plate, was that actually my license plate, where did I get the license plate, can I show him the license plate (so he can write down the number). During this, I have no conception of why he's hammering me with these questions, telling me what I'm doing is "wrong" and "just not okay" — the word "illegal" was never used, and I did not feel informed of my mistake or the exact ramifications. It was also indicated that he has been observing my car and license plate for over 2 weeks, making me even more uncomfortable.
In an attempt to defend myself, I stated: "There is no reason for you to be speaking to me this way. I am having a conversation with you and I feel like you are intentionally being mean to me." But I was promptly ignored and the derision continued. In the mind of this Community Service Officer, I was already guilty of what would later be detailed to me by the Foothill/De-Anza Police Department Sergeant as license plate fraud. Because I still had my out-of-state license plate on my car, there was an assumption that I was taking my California plate down from the dash to avoid paying for parking.
While I certainly deserved a slight admonishment for being lazy about putting the correct license plate on my car, I was absolutely not guilty of frauding my way out of parking tickets. I fully understand the Community Service Officer was acting on his duty; however, there is a better way (such as detailing exactly what I did wrong, the consequences, and the reasons it mattered so greatly — preferably in a professional tone). The Sergeant agreed to speak with his employee about my report.
While it is possible that this NOT an indication of racial profiling or abuse of authority in police departments — a conclusion warranted in this nation's current climate — it is certainly a commentary on the lack of consideration by our police department in understanding and responding appropriately to the students around which the Foothill community centers. Those in positions of power have a greater responsibility for their interactions in society — for the ramifications of criminalizing a woman of color, and the conclusions of youth living in a country believed to have an epidemic of police brutality.
Addressing the inappropriateness of this encounter, and seeking to actively connect Foothill students and the police department — a department supposedly existing to serve the students of this campus — I collaborated with the admirably coactive Thom Shepard, Interim Dean of Student Affairs & Activities. Agreeing with the desire and necessity of connecting the two communities, Shepard continuously acted as a liaison between the police department and myself, as I hoped to represent the student body in organizing an introductory event.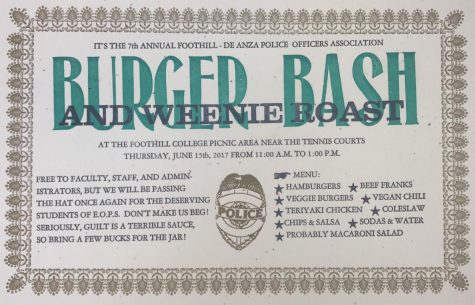 However, the responses received from the police department have been obligatory at best, lacking in any urgency of action. Attempting to make the event planning as seamless as possible for the undoubtedly preoccupied department, Shepard and I suggested a merging of a community-bonding event with the annual Foothill/De-Anza Police Department barbeque held on campus — even offering funds to cover the additional cost of student attendance. The response: nearly three weeks of silence.  
Without such community-building initiatives, It would seem student interactions with the Foothill/De-Anza Police Department are limited to criminalizing encounters. This is, frankly, a problem. While there is time to correct this problem, it could rapidly become that commentary of racial profiling and abuse of authority — a commentary that could harm the extensive work dedicated to fostering the missing connections in the Foothill community. It is certain our administration and staff support this cause, but the progressive action is left to the students of Foothill College, and the officers of the Foothill/De-Anza Police Department.